Sony SAB's Baalveer Returns is parents approved
Celebrity parents talk about the importance of age appropriate shows on television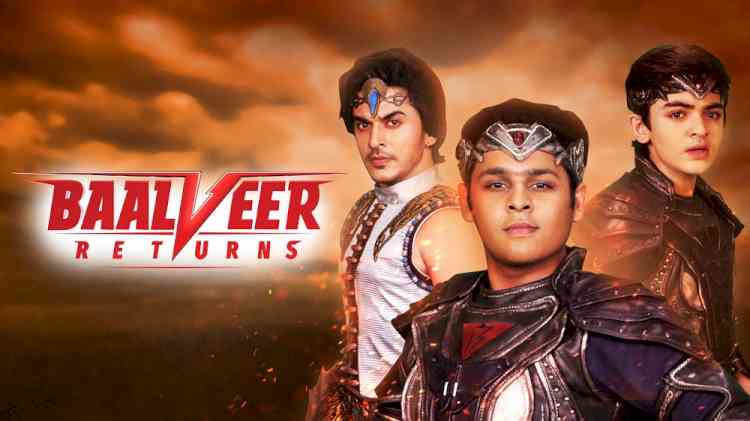 There was a time when Indian television had fewer shows catering to younger audiences – especially the young adults. However, a lot has changed in the television industry since then. With the evolution of content and the mediums, kids and young people are spoilt for choice and parents have had to become more vigilant to ensure that the content their kid is watching is age appropriate.
At a time when there is a plethora of content around us just a touch away, keeping the magic of television alive are some shows which not only cater to the young audiences but present a form of entertainment that can bring the entire family together. Succeeding on these lines is Sony SAB's Baalveer Returns. When the show first launched years ago, it amassed a massive fan following – mostly kids. However, as the show returned with a more grown up Baalveer – a teenager now, the show has once again captured the imagination of those who grew up with him, making Baalveer's story relatabable to a young adult audience.
The storyline of Baalveer Returns is a perfect mix of values and friendship embedded in the ultimate clash between the good and the evil. Starring Dev Joshi and Vansh Sayani, Baalveer Returns is a show that has kept the young audiences entertained with twists and turns in the magical worlds of Veer Lok and Kaal Lok. However, the best part is, the show not only depicts the life of an extraordinary young man, it also features themes and topics relevant and appropriate for young adults which makes parents happy as well.
Here is what some television stars, who are also parents, have to say about the importance of good value driven content for youngsters on television, while talking about some of their favourite shows while they were growing up.
Smita Bansal, who was last seen in Sony SAB's Aladdin: Naam Toh Suna Hoga, shared, "When we were young, though there weren't many television channels, there was enough content for kids and the young adults. We used to have Sunday mornings, which were only dedicated to children, with cartoons, educational shows and superhero shows. Now, even though we have so many channels, there are no good shows for which caters to the young audience.
"Baalveer Returns is one such show on television that is for kids and teenagers too enjoy. In other shows on General Entertainment Channels, we are seeing children do mature roles but here, a child artiste is essaying the role of either a child or a teenager which makes their character much more relatable for the audience. The beauty of the show is how a positive messaging is incorporated in the stories. While the kids are in awe of the visually appealing episodes, teens relate with the ongoing college phase of the character. So, I feel kids and teens should watch such shows."
"We are a lot influenced by the west but Baalveer is India's own superhero and everyone loves him. It's nice if our children watch a show like that. I am personally very keen on our children accepting the stories of our own country. However, since superheroes have a lot of influence on kids and teenages, it is good that we have age appropriate shows like Baalveer Returns which are not only entertaining but also emparts good values."
Bollywood and Television actor Tanaaz Irani said, "Although Taarak Mehta Ka Ooltah Chashmah is my kids' most favourite show, I would really like for them to watch a show like Baalveer Returns, which has someone of their age group trying to save the world. It's entertaining as well as imparts some good values. I think there should be more such kids and teen appropriate shows on Indian television that are filled with magic, the right message and having a character they could emulate."
"While the children these days have now moved ahead to digital platform for their entertainment, but if you inculcate all the Indian values through television shows, I think it would be very interested for this young audience to watch the shows. Having stories centered around the rich and beautiful heritage of India is something I would want my children to watch on television. We have some great Indian moral stories to tell our children, like Akbar Birbal."
"Baalveer being an Indian superhero, I would love to have my kids watch him. I am sure they will also be excited to watch the older Baalveer too as my children are big fans of retro. I would say they are more retro than I am. Their father has inculcated the love for retro in all of us through old songs and also exposed us to a lot of old movies. So, we really enjoy watching old shows and movies."
Manish Wadhwa, currently seen in Hero- Gayab Mode On shared, "I honestly feel there should be many more shows for kids on television. I remember when we were kids, we used to wait for Sunday to watch shows on television like Shaktiman, Spiderman, Star Trek and many other interesting shows of kids. These days, there are not many such shows and the ones that exist, are based on grown up kids, which make the younger ones also behave like grown-ups. Today, on most streaming platforms, there is content that is certified for kids above the age of 12/13 years, but it isn't really appropriate for them. So it's great to have a show like Baalveer Returns on television, for kids and youngsters to watch. I feel Baalveer Returns is a show that gives the youngsters values to take away while also entertaining them. In my opinion, the most important message for kids today should be to remain as kids and not get too matured too soon. So, I hope a lot more shows come up with the same ideology."