Sony SAB presents 'Vanshaj': A captivating family drama showcasing the journey of a female heir as she fights to prove her capability and claim her rightful succession
Sony SAB presents 'Vanshaj': A captivating family drama showcasing the journey of a female heir as she fights to prove her capability and claim her rightful succession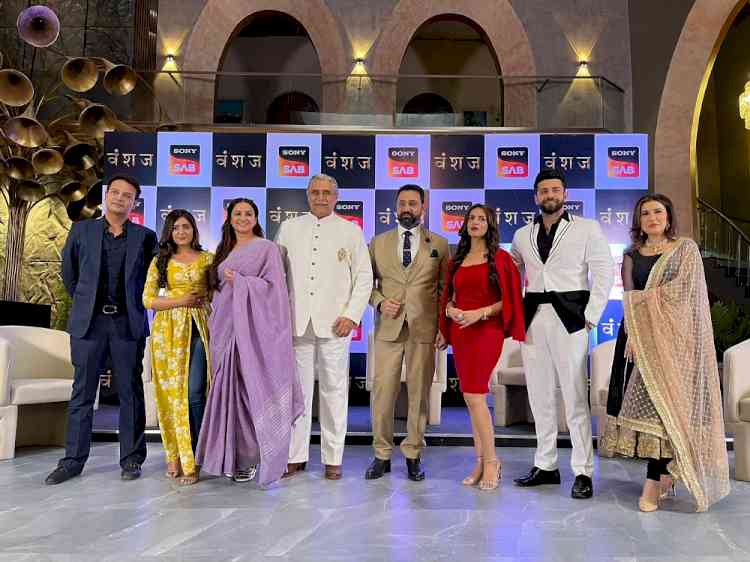 Step into the World of the wealthy and powerful Mahajan family, premiering on 12th June at 10 pm
Sony SAB's much-anticipated family drama, Vanshaj, is set to premiere on the television screens on 12th June. This enthralling drama will take the viewers on a journey filled with political intrigue and the quest of a female heir Anjali Tatrari as Yuvika, to assert her right to succession, exploring the eternal conflict between inheritance and capability. Set in a legacy business house, Vanshaj portrays the opulence, wealth, and fame reminiscent of prominent business families in India. The narrative of Vanshaj revolves around the Mahajans featuring Puneet Issar as Bhanupratap, Mahir Pandhi as DJ, and Gireesh Sahdev as Dhanraj among others. The cast and creators of the show announced the launch of the show at an exciting gathering today, where they introduced the media to the world of Vanshaj and took them on a whirlwind tour of the show's larger-than-life sets.
This business dynasty skillfully manoeuvres through the ruthless realm of politics, power struggles, and the intricate complexities of human relationships. As the audience immerses themselves in the captivating world of the Mahajans, they will witness the unfolding drama and become a part of their compelling story. In addition to its mind-blowing storyline, Vanshaj boasts an exceptional star cast featuring Gurdeep Punjj as Bhoomi, Parinitaa Seth  as Gargi, and Sheena Bajaj as Roohi which further adds to the allure of this unmissable television experience. These talented actors bring their characters to life, adding depth and authenticity to the portrayal of the Mahajan family and their associates. With its gripping narrative and relatable themes, Vanshaj has the potential to become a popular choice among viewers. As the episodes will unfold, the audience can anticipate more dramatic twists, emotional moments, and thought-provoking dilemmas that will keep them hooked to their screens. 
Sharing his excitement about the show's launch, Mahir Pandhi, who plays the DJ, expressed his exhilaration, stating, "Being a part of Vanshaj is an incredible opportunity. We have put our heart and soul into bringing this captivating show to life as a team. From grand sets to mind-blowing costumes, Vanshaj is a complete package that will delight the audience. The unique blend of family drama and the exploration of societal dynamics offers a refreshing perspective on inheritance and patriarchal norms. I am thrilled to portray a character that adds excitement and intrigue to the narrative."
Echoing the same enthusiasm, Anjali Tatrari, who essays the lead role of Yuvika, exclaimed, " Yuvika is a small town girl who is not aware of her own capabilities. However, circumstances force her to challenge patriarchy and Yuvika's journey promises to be both inspiring and empowering Vanshaj is a show that will resonate with viewers on multiple levels, and I am beyond excited to bring Yuvika's character to the screen. It has been an incredible journey for the entire team, and we have put our best foot forward in creating a show that is thought-provoking and relatable. 
Commenting on the moment, Puneet Issar, who portrays the patriarch Bhanupratap, shared his perspective: "Vanshaj goes beyond the surface of a business family and delves into the complexities and conflicts that arise within. It also questions the existing patriarchal structures in our society. Bhanupratap's character is multifaceted and bringing him to life on the screen has been an absolute pleasure. This show challenges stereotypes and explores the unspoken truths, making it an engaging and compelling watch. We have worked as a team to showcase the nuances of family relationships and the struggles faced by women while striving for equal opportunities."
Gurdeep Punjj, who portrays the role of Bhoomi, added, "Playing Bhoomi has been a privilege for me. Her character represents strength, resilience, and unwavering support within the family. Vanshaj is a show that will resonate with viewers from all walks of life. We are excited to share this heartwarming and relatable journey with the audience, and we hope they will enjoy watching it as much as we enjoyed creating it."
Will Yuvika succeed in asserting her rightful position in the family and the business? To uncover the answer, don't miss the captivating saga of Vanshaj on Sony SAB, starting from 12th June, airing every Monday to Saturday at 10 PM.