Sixth edition of annual entrepreneurship event B-Starter organized by CGC Landran
DAV College Chandigarh wins the first spot for its business pitch with CBSA CC Landran bagging the second spot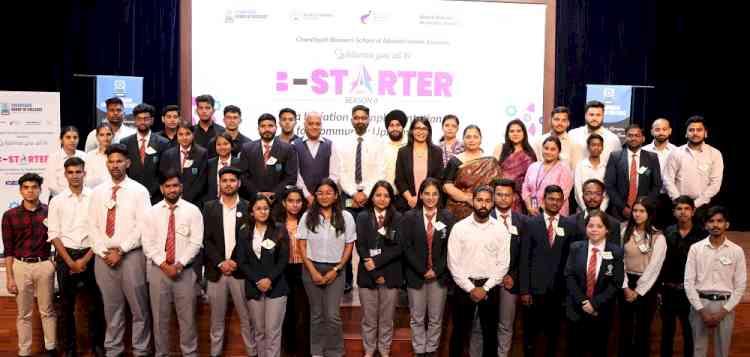 Wining teams of the three day B-Starter 2023 event organsied by CGC Landran.


The department of MBA, Chandigarh Business School of Administration (CBSA), CGC Landran in collaboration with ACIC, RISE Association, CGC Landran organised a three-day entrepreneurship event, 'B-Starter-2023'. The sixth edition of this annual competition was aimed at encouraging budding entrepreneurs to pitch ideas which could be implemented for community upliftment, in the future. The competition saw the participation of more than 100 students divided into 25 teams.
Teams had to go through multiple rounds of idea-pitching, presentation including a questioning round by judges. A total of ten teams were shortlisted to compete in the competition's finale. Eminent personalities gracing the judging panel for the three days included Mr. Naval Sood, Managing Director, SWS Investment Pvt. Ltd., Mr Ganesh Jha, CEO and Co-founder Finofii Fintech Pvt. Ltd., Mr Hitesh Kumar Galati, Founder Diversity Ace Business Consulting, Mr Sanjay Shukla, Intonivesh, Chandigarh, Mr Asif Choudhary, CEO, Adflo Medtech and Ms Himja Rana, Founder, BossLadies who was also the Chief Guest on the concluding day of the event. 
The winning ideas were adjudged on parameters including the economic and social viability, cost effectiveness and ease of implementation. Among the top ten final startup/ business ideas presented by students were web-based applications for child adoption, for availing ambulance facility, for caretaking of the elderly and patients, for renting two-wheelers, including business models for medicare facilities aimed at cancer treatment in addition to ideas facilitating users with online electricity and appliance management, among others. 
The event concluded with the best ideas being rewarded. The first prize was won by Team Heathens from DAV College, Chandigarh, led by Vansh Gandhi – for their idea of building an application which would help anyone avail an ambulance facility within minutes, the second prize was won by Team AK Caretaker, from CBSA, led by Pushpendra Singh for developing a startup idea plus application for providing caretaking facilities for the elderly and patients. The third prize was bagged by Team Jupiter led by Dhruv Sehgal, for ideating a startup which would provide exclusive astrology services to business houses.
The first, second and third prize winners were conferred with cash prizes worth Rs. 15,000, Rs. 10,000 and Rs. 5,000, respectively, networking opportunity with prominent angel investors' network,  in addition to incubation support as well as support in patent filing by NITI Aayog backed  ACIC RISE association, CGC Landran.