Sirsa-based environmentalist Gurvinder Singh Ghuman urges for his Beautiful India, Colourful India Initiative 
Writes to PM and all CMs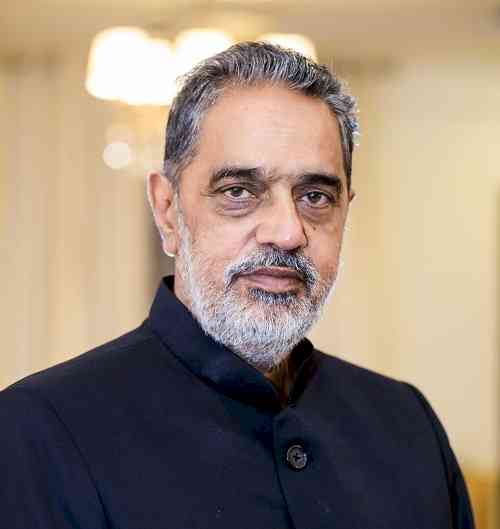 Gurvinder Ghuman, an environmentalist.
Chandigarh: Sirsa-based environmentalist Gurvinder Singh Ghuman has written a letter to Prime Minister Narendra Modi and chief ministers of all states of India for support and guidance  from  all Central and State   government representatives to be part of a campaign for planting God gifted all types  trees across the country.

"Most of us go for traditional saplings of neem and peepal, Kikar, Tahli that result in green foliage only, while my idea under the Beautiful India, Colourful India initiative is to promote the planting of flowering, herbal, ornamental trees besides fine-looking shrubs in addition to traditional trees, said Ghuman.

He invited non-resident Indians to donate seeds and plants to their native villages and be a part of the movement to beautify the landscape by planting flowering trees.

He started the initiative in 2018 in Sirsa and planted 167 flowering trees with the help of local leaders, administrators, students and teachers besides volunteers. "We planted trees in and around Sirsa, including hospitals, government schools, parks, police stations, and public places. It's a success but to buy the saplings from nurseries at one's own expense restricts us from taking the initiative to a large scale. Buying seeds is a cost-effective way to carry forward this initiative that relies on only government-approved tree varieties," he said.

He said, "The help I require is minimal considering the substantial long-term effects of this initiative, therefore I am proposing the following requests:

Seed Availability: Seeds/plants from Nurseries should be readily available nationally throughout the states, specifically where they are eligible to be planted and grow (planting season, suitable climate/conditions).

Information Availability: A public database listing nurseries that carry the seeds/saplings. This should be implemented at a national level, where nurseries may be sorted by state, cities, types of trees sold, etc. and include the nursery or seller's locations(s) and addresses.
 
Education:  Seminars, books, educational programs should be organized for officials and citizens alike to educate them on the value of these trees, the benefits they will provide us now, as well as future generations, and the steps needed to ensure the life investment of these trees are adequately maintained and cared for in order to reap the benefits these trees will provide to all within India. 

I understand this is a difficult time in dealing with Covid-19. However, based on feedback and information I have received, I believe the country will be receptive and back this movement. This initiative is an investment in all of our future here in India, as the planting, nurturing, and growth of these trees are able to provide hope, fresher air, and unparalleled beauty in the face of this difficult Covid-19 pandemic. 
Plan moving forward: Every year, the state should target to plant a minimum numbers of trees of each variety of flowering, herbal, ornament, traditional trees and fine looking shrubs. The state should display few plants of each variety of the above mentioned trees in two to three parks for all citizens to visit and explore. Gather data and compile a list of all the flowering, herbal, ornamental and traditional trees and shrubs which can be planted on national level and ones which can be planted on state wise/ region wise in India. It is key to help save and recycle all varieties of trees on their last stage.
As a citizen of India, I believe it is my right and responsibility to share and promote this initiative with Indian ministers and officials throughout this country. I thereby respectfully request your national support in this noble initiative, for the long-term health benefit of all India and its people."