Shree Geeta Mandir in association with AryaVrat Jyotirvigyan Sanstha organised free astrology camp
As many as 400 persons had their horoscopes studied by astrologers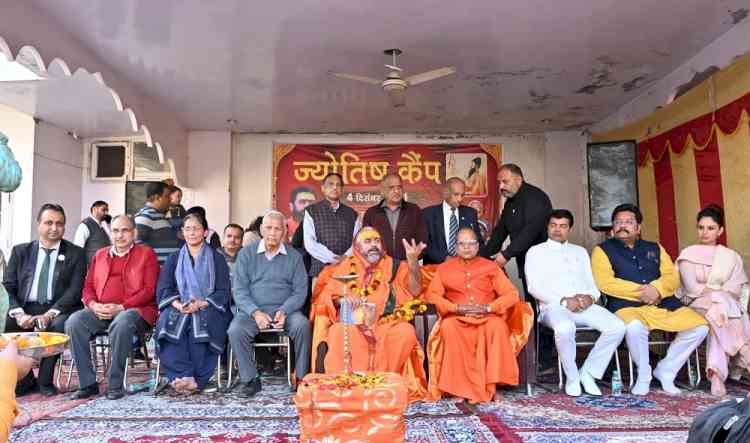 Ludhiana, December 5, 2021: A large number of city residents hailing from different party thronged 1-day free astrology camp organised by Shree Geeta Mandir, Vikas Nagar, Ludhiana, in association with AryaVrat Jyotirvigyan Sanstha on Saturday. As many as 400 persons had their horoscopes studied by astrologers.
Dr. Suresh Atray lighted the lamp to formally inaugurate the camp. Speaking on the occasion, Swami DevVrat Devi Ji Maharaj said that astrologers could make accurate prediction provided that they are well versed in the subject and studied in the subject astrology thoroughly.
Prof Mohan, a veteran astrologer, was honoured with life time achievement award for his selfless services in the field of astrology.
Pardeep Dhall, General Secretary, Shree Geeta Mandir, Ludhiana spoke about the reasons of the decreasing faith of people in astrology. He regretted that such astrologers who adopted this profession with the motive of making money have brought a bad name to the profession of astrology.
Congress Municipal Councillor Mamta Ashu, praised the organisers for organising the event in Shree Geeta Mandir for the benefit of masses. She said the camp has been successful in highlighting many aspects of astrology. 
In his address, Prof Gurdeep Arora, a prominent astrologer, also suggested some astro simple remedies.
Pt. Rajan Sharma, Sukhminder Jyotishi, Dr. Sachin Atray, Ram Krishan Saluja, Vishwas Puri, Lakshay Gupta, Amit Vashist, Ashwani Sharma, Raman Moudgill and Mangla, Joshi Pawan Kant Vohra and Sukhvardhan Jaitly Parshotam Bansi were among those prominent persons present on the occasion.
Shefali, Deepika Singh and Manjit Singh were among astrologers who participated in camp.
A total 25 astrologers evaluted janam kundlis.