Shoot of The Kanwar's Talk Show begins with online direction
With proper precautionary measures, The White Falcon Films shoots its first episode post lockdown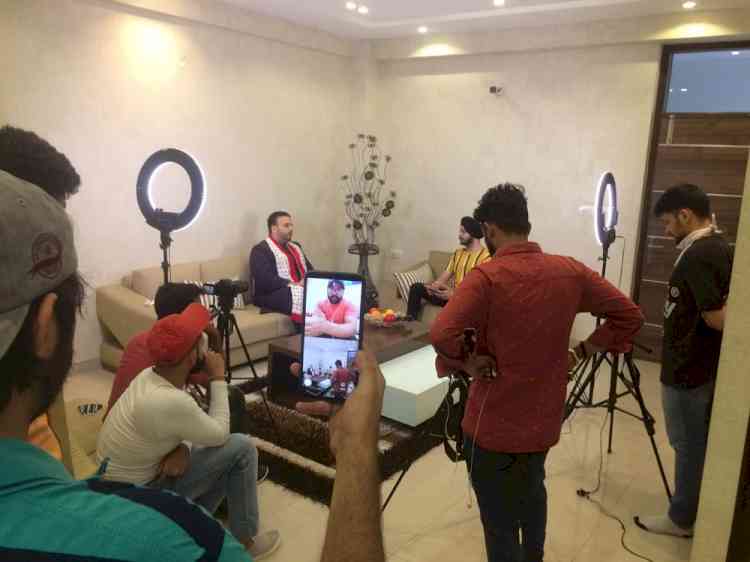 Jalandhar: Continuing its Season-2 of The Kanwar's Talk Show- an interview based show on a YouTube channel, The White Falcon Films have started its shoot of episodes once again post lockdown. The team has lately shot an interview session with a leading choreographer of India, Gaggun Bedi from Jalandhar. The episode will be released on August 8, 2020.

The shoot was directed by Siddakpreet Singh, who is currently based out of New Zealand and has directed the entire team through a video call. The shoot took place with full precautionary measures by sanitizing all the equipment and make up products.

The episode was shot in the premises of Jalandhar Heights Society as venue partner.

Telling more about this show, Kanwarpreet, host of the show said, "Well, we thought of re-starting the shoot of our talk show, keeping in view the precautionary measures. Prior to this, we have interviewed a lot many renowned people across region in our Season 1 and 2. This is our fifth episode of Season 2 and we will continue the shoots with all defined safety measures."

While directing the show online from New Zealand, Siddakpreet said, "We just wanted to show that distance doesn't matter if you have will to work for anything. Thus, we decided and plan to shoot our next episode and I was directing the team throughout the shoot via video call. It was a great experience and will continue the same."

The show is powered by CT Group and the team members include Bhuvan Raheja, Associate Director and editor; Cameramen Deepak from Mahi Photography, Kunj Arora and Romil Kumar; makeup artist Manish Thakur and Production Manager Mukul Grover.