Shocking Twist! Is Dr. Pramod really married? 
Exciting times ahead in Sony SAB's Kaatelal & Sons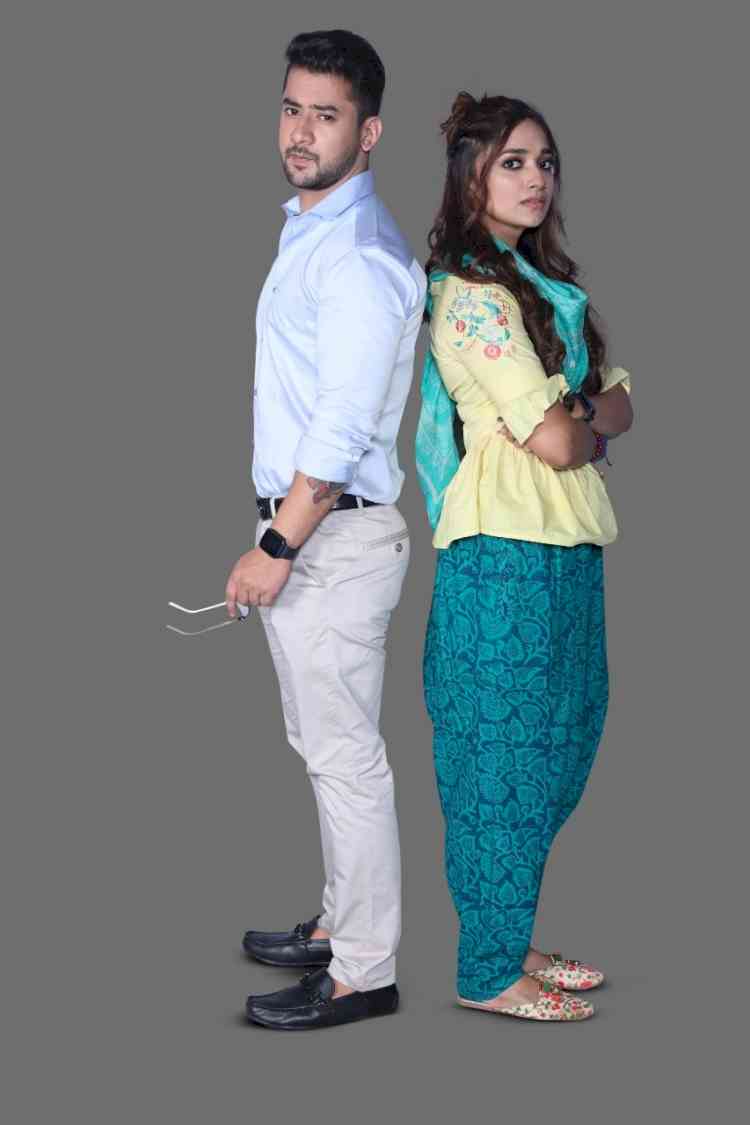 Paras Arora as Dr. Pramod and Jiya Shankar as Susheela in Sony SAB's Kaatelal & Sons.


Sony SAB's light-hearted and leading-edge show Kaatelal & Sons continues to keep its viewers engrossed with its motivational and exciting storyline. While Dr. Pramod (Paras Arora) and Susheela (Jiya Shankar) are taking baby steps in their journey towards love, the story is taking an exciting turn with the entry of Lily (Vedika Bhandari) and little Harry Pramod Chautala (Aditya Pawar), claiming to be Dr. Pramod's wife and son, respectively. The upcoming episodes promise to put the viewers on the edge of their seats with Lily claiming to be his wife and knowing intricate and intimate details of Dr. Pramod from his birth marks to moles.
As the story progresses, Dharampal (Ashok Lokhande) asks Agni (Sahil Phull) to check the birth marks on Dr, Pramod's body and gets shocked to find that the marks exactly at the same spot as claimed by Lily. Pramod tries to convince Agni that the claims made my Lily are false and Agni believes him only to later witness the two talking to one another like they know each other from a long time. Agni is in a fix and finds it hard to trust Pramod. After losing Agni as his confidant, Pramod decides to prove his innocence by going through a paternity test and proving all the allegations against him as incorrect. 
What will be the results of paternity test? Will Dr. Pramod be able to prove his innocence or is he really married?
Paras Arora, essaying the role of Dr. Pramod said, "It is fun shooting for this new twist in Pramod's life, but the tension is building between Susheela and Dr. Pramod and it is bound to affect their relationship They were on the verge on confessing their love for each other and now Susheela s heartbroken and confused. My character is also having a hard time dealing with this situation and convince everyone about his innocence.t will be interesting for the viewers to witness how this situation is about to unfold. Now only the paternity test will decide the fate of Pramod and Susheela's relationship."
Jiya Shankar, essaying the role of Susheela said, "It is a rough time for Susheela as she is left heartbroken after finding out Pramod is married and has been hiding the truth about his wife and son. Dharampal has also lost trust in Pramod and has asked Susheela to forget about him and this revelation has broken even a strong character like Susheela. The episodes this week was intense and even I could feel Susheela's emotions during the scenes. These episodes further will declare the verdict of Susheela and Pramod's relationship and future. To all my fans and viewers, I am sure you are going to love the episodes this week so, stay turned and root for SuMod."