Shiromani Akali Dal stages chakka Jaam against anti-farmer bills in Halka Atam Nagar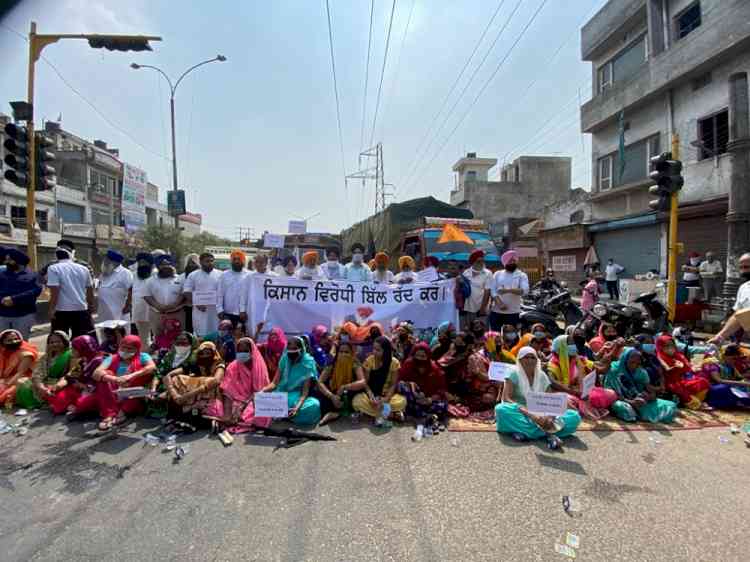 Gurmeet Singh Kular Incharge Shiromani Akali Dal Halka Atam Nagar strongly protested against anti-farmer bills 
Ludhiana: Today, the Shiromani Akali Dal staged a protest against the anti-farmer bill in Halka Atam Nagar Ludhiana. Mr. Gurmeet Singh Kular Incharge Shiromani Akali Dal Halka Atam Nagar strongly protested against the anti-farmer bills and demanded to cancel the anti-farmer bills passed by the central government and for the protection of farmers, laborers and agricultural industry, huge Chakka Jaam has been carried out at Janta Nagar Chowk under the leadership of Shri Gurmeet Singh Kular.
 
Shri Gurmeet Singh Kular Ji said that we are standing shoulder to shoulder with our farmers in this difficult time and demand that the government immediately reverse this decision and save our farmers.
 
On this occasion, S. Maheshinder Singh Grewal, Harcharan Singh Gohalwadia, Harbhajan Singh Dang, Jagdev Singh Vicky Kular, Jasmeet Singh Sahib Kular, Jaswinder Singh Bhola, Surinder Singh Chauhan, Balbir Singh Mankoo, Inderjit Singh Gill, Kuldeep Singh Khalsa, Gurmeet Singh Sidhu, Captain Preetam Singh, Ravinder Singh Toni, Honey Grewal, Pardeep Singh Rajarh, Satwinder Singh Rajarh, Bahadur Singh Dhillon, Narottam Singh Khalsa, Gurucharan Singh Guru, Amarjot Singh, Kuldeep Singh Purba, Rajesh Mishra, Jatinder Singh Khalsa, Sukhjeevan Singh Gill, Bibi Balbeer Kaur, Mandeep Singh Saini, Ranjit Singh Shergill, Sarabjeet Bittu, Inderjit Singh Birdi, Manpreet Singh Grewal, Bhupinder Singh Makkar, Gurmukh Singh Rupal, Amarjeet Singh Kalsi, Lakhbir Singh Sandhu, Harjinder Singh Bhogal, Rajinder Singh Virk, Gursharan Singh, Kunda Lal Lalka, Gurjeet Singh Gaggi, Sarabjit Singh Bhamber & the entire team of Kular Atam Nagar Ludhiana.