Several trains affected due to farmer union dharna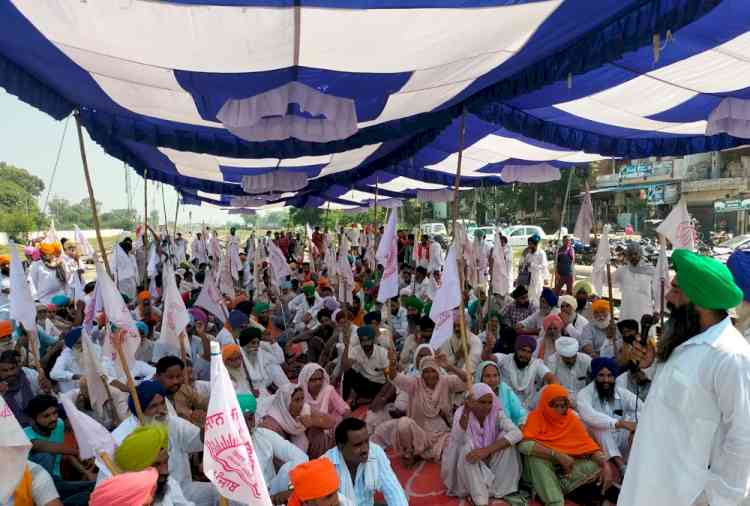 Ferozepur, October 3, 2022: Hundreds of farmers belonging to Kissan Majdoor Sangharsh Committee (KMSC) today blocked the railway tracks in Ferozepur Cantonment and Guruharsahai. Owing to the protest, over 11 trains in this railway division were affected. As per information, six trains were cancelled, five trains were rescheduled, two trains were short originated and three trains were short terminated. Due to farmer's protest, the commuters had to bear the brunt. 
 
As per information, the trains which were cancelled included Beas DEMU Express (up and down 04750 and 04751), Ferozepur- Ludhiana Express (04998), Madgaon Bharat Darshan from Bhagtawala to Khemkaran (06944), Phillour – Lohian Khas DMU (up and down 06984 and 06985). 
Meanwhile, while addressing the congregation at Basti Tankan Wali railway crossing, Jasbir Singh Piddi, State Vice President said that till date the union government has failed to arrest the main accused of Lakhimpur Khiri incident. The farmer union leaders Ranbir Singh Thatha, Inderjit Singh Bath, Dharam Singh Sidhu and others demanded the immediate arrest of the accused. In other demands, the farmers demanded the release of farmer union leaders who had been arrested during various protests besides cancellation of the notification of Electricity Distribution Law 2022 and Law for 23 crop purchases by the state government.