Self-safety awareness drive to fight covid-19 initiated by Ludhiana Mayor and Advocate Sandhu
Harpreet Sandhu asserted that slogans will be spread within every section of society in City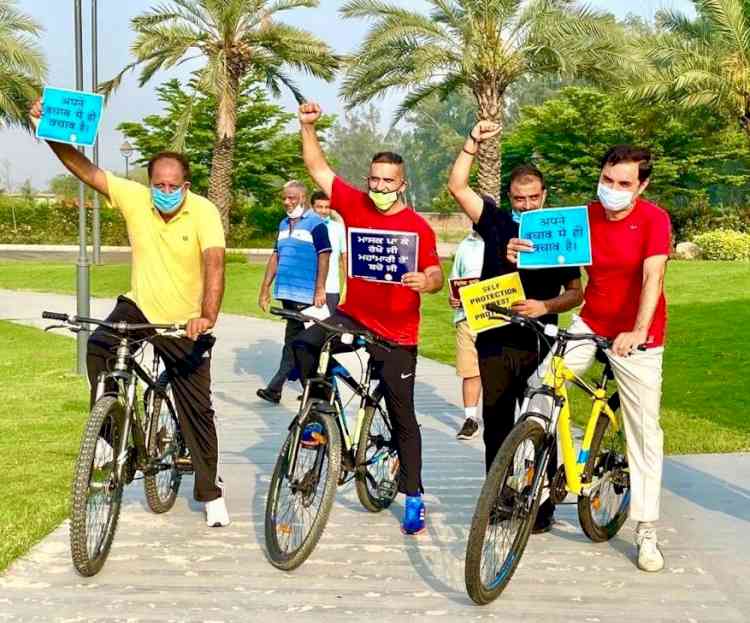 Ludhiana Mayor launching slogans on self-safety for citizens along with Advocate, Harpreet Sandhu and Dr. Vivek Saggar.
Ludhiana: Mayor Balkar Singh Sandhu along with Vice President, Sewa Sankalp Society Harpreet Sandhu (Advocate), eminent Doctors from DMC Ludhiana Dr. Gurpreet Wander, Dr. Bishav Mohan, Dr. Vivek Saggar, Dr Baldev Aulakh, eminent  industrialist Navneet Jairath, Sonu Nilibar, Mahesh Goyal, Pardeep Aggarwal and morning walkers from Janpath initiated a massive drive to spread Self Safety Awareness Drive through slogans in city today, with step to have 'Carona mukt Ludhiana' 
Harpreet Sandhu asserted that the slogans  will be spread within every section of society in City  through Social media platforms such as Facebook, Twitter, Instagram, WhatsApp etc. to make city residents aware about the self-safety-the best cure during Covid-19 enabling to make the innovative step of Mission Fateh by Hon'ble Chief Minister Punjab, a big success. Ludhiana Mayor Balkar Sandhu also raised the slogans high while cycling in the open area at Janpath, indicating to follow social distancing. 
As we all are witnessing that entire World is under the grip of the Covid-19 Pandemic which has infact affected every aspect of life.  Infact we were able to curb its spread to some extent by imposition of lockdown but on the same time it had great impact within commons in terms of Socio - Economic factors. But as now lockdown has been eased it is important for the natives to be more vigilant and take on their personal responsibility by following few simple steps to maintain hygiene and comply with the orders issued by the Deputy Commissioner, Ludhiana Mr. Varinder Kumar Sharma for sake of their own safety and this way contribute their part in making the whole process fruitful.