Gudiya Humari Sabhi Pe Bhari is authentic, realistic and a rare find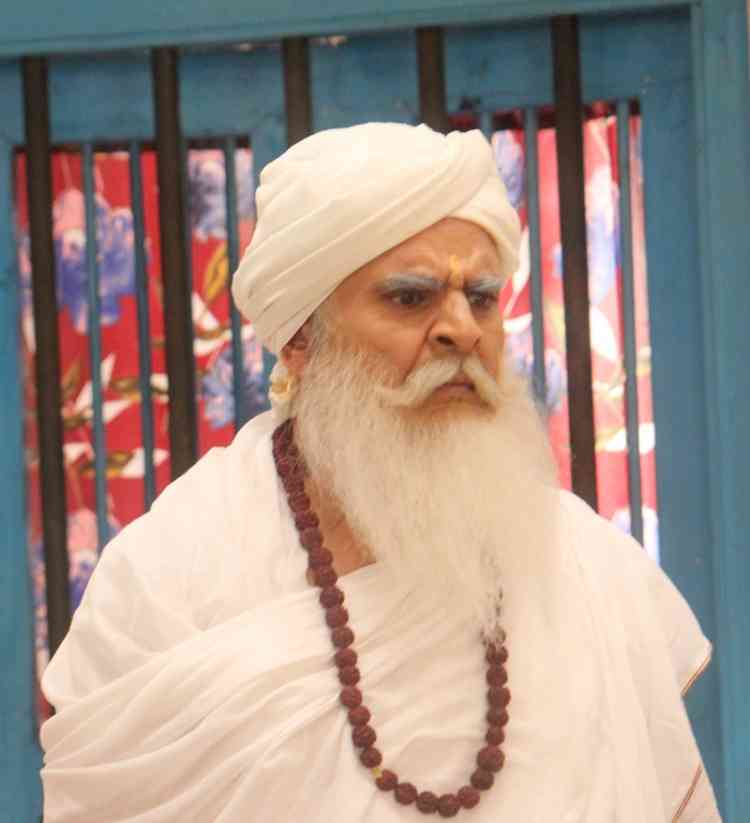 Ravi Jhankal in Gudiya Humari Sabhi Pe Bhari.
&TV's Gudiya Humari Sabhi Pe Bhari, has struck a chord with the viewers who whole heartedly enjoy the raw and authentic appeal of the show.  Joining the cast is well-known personality, Ravi Jhankal who sets foot in the show as Amroodh wale Baba. In a candid conversation with Ravi, he talks about his role and his experience in the television industry which dates back to the 80's: 
 
•    Tell us in brief about your journey so far?
•    I have been residing in Mumbai for the last 30 odd years and graduated from the National School of Drama. I am fortunate enough to have cherished experiences in all the realms of the entertainment industry. Right from television to films and theatrical plays, I have been blessed to be a part of it all. After completing close to 4000 episodes, a little more than 100 plays and approximately 80 films, I consider myself to be a well-established performer. 
•    Tell us about your character in the show?
•    In the show, Gudiya Humari Sabhi Pe Bhari I will be essaying the role of Amrud Baba. He looks like one and talks like one too, but his true heart lies in deceit as he is in fact a dhongi baba. Somehow, he tricks himself into Gudiya's house and has conspired to extort as much money as he can out of the innocent household. He is notorious and will bring about trouble in their little paradise. 
 
•    You have been a part of many shows, how is &TV's Gudiya Humari Sabhi Pe Bhari different from them all? 
•    I have been a part of the television industry ever since it came into being in India. From that time up to 2004, I have an array of experience with televisions and the different genres that come with it. So, it is safe to say I have had a very holistic experience that this industry has to offer. I am pleasantly surprised to say that Gudiya Humari Sabhi Pe Bhari has treated me well, the team is meticulous in their work with a system in place and are very professional as well. The one thing that struck a chord with me was that this show focuses on character building and its language. The fact that a major chunk of the cast hails from Madhya Pradesh and because of that, the actors are so fluent in their speech. Apni bhasha bolne mein logon ko mazza aata hai and because of this, they relate better with the audience which is a strong factor that sets apart this show from the others. The casting of this show has therefore taken place elegantly without putting an actor in a tough spot where they face challenges in communicating. 
 
•    Any dream character that you have portrayed or wish to play?
•    The list of characters I have played are many, but to me what truly matters is when the audience recognises you through your role and not through your real name. You know you have succeeded in making a mark when the viewers have an embedded image of you in their head as a memorable character. I have played the role of a eunuch and to me that was a very unique and unforgettable experience. It is very rare that a non-eunuch is selected to display such a strong role and when I performed as one it was special to me. 
•    What is the storyline?
•    Gudiya (Sarika Bahroliya), competes against her mother Sarla (Samta Sagar) to become a strong devotee and a better sanyasani as Sarla left for the pilgrimage without her. In order to prove her capability and the fact that Pahadi Baba is not the only priest who can perform wonders, Gudiya sets out to venture for a powerful and holy baba. She comes across Amroodh wale Baba and pleads for him to accept her as a follower, so much so that she even offers him to stay in the house. The village is abuzz with the knowledge of this holy saint who is in their midst and everyone gathers for their blessings. The naïve villagers, proceed to offer their wealth and belongings to Baba but no one knows of the notorious side to Amroodh wale Baba.
•    What are your expectations from the audience and the show?
•    I urge the viewers and my fans to watch this show as it is authentic, realistic and a rare find. My preparations for this role were solely focused more on my speech as compared to my looks as the entire cast is so talented and confident in their languages. It was challenging for me to learn their way of speaking as it should be, it was on my conscious throughout that I must learn something new and polish my skills. I hope to see more such shows in the future that are based on true and good intentions. So, my expectations from the show have surpassed and as for the audience, I expect them to enjoy the lovely story of Gudiya and her family. A special mention to Samta Sagar who has worked on the show with such precision as Gudiya Humari Sabhi Pe Bhari is one of a kind and it is not every day that you get to work with a show like it.