Savita is a dreamer and an optimist: Geetanjali Tikekar 
Speaks about her character in Sony SAB's Shubh Laabh- Aapkey Ghar Mein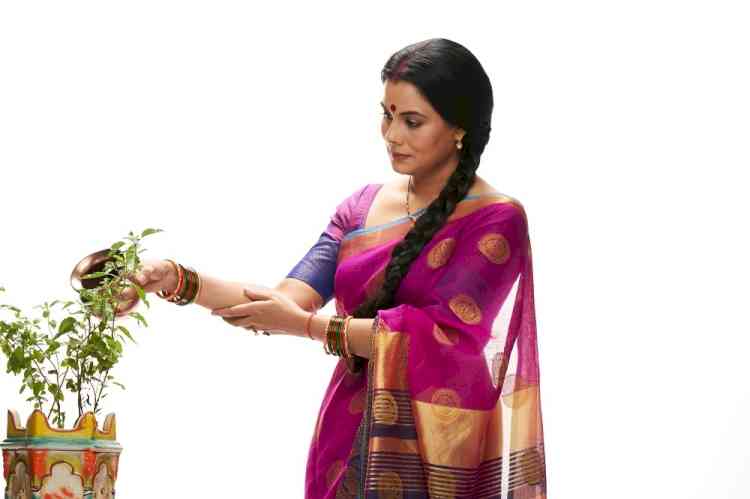 Geetanjali Tikekar as Savita from Sony SAB's Shubh Laabh- Aapkey Ghar Mein.
•    How does it feel to be back on Sony SAB with Shubh Laabh- Aapkey Ghar Mein?
o    This is my second association with Sony SAB, and it feels great to be back with a show like Shubh Laabh- Aapkey Ghar Mein. Sony SAB has a very loyal viewership and has struck a right chord with its audiences with its slice of life and light-hearted shows. I am looking forward to this journey ahead with this show and I am anticipating it to be an exciting one.
•    What makes your character Savita stand out?
o    My character, Savita is a homemaker, mother, and a wife, her entire world revolves around her family. I feel what sets her apart is that she is a dreamer and an optimist and believes that everything will eventually get better.
•    What is the one thing that excites you the most about this character?
o    The thing that's most exciting about this character is that she is very real. Her strengths, her virtues, and her flaws are all real, yet she's very endearing. The viewers who will be invested in her journey will not judge her because they will understand her dilemma as well. I feel blessed to have an opportunity to play this wonderful character, Savita, which is allowing me to expand my horizon as an artiste. It's always fun to take an extra step in understanding the character and portraying it authentically on-screen.
•    What preparations have you done to bring the character of Savita to life?
o    The biggest way an artiste can prepare for a role is by going back to their own life experiences or observations. The character of Savita is very different from the other roles that I have portrayed on the screen, be it her mannerism, dialect, and body language. I bestow my trust on the creatives of the show who help me stay in the skin of the character and not slip out of it, even by accident.
•    What was your reaction when you read about your character for the very first time?
o    The first time I read about my character, I couldn't stop myself imagining about her life and her struggles. I started visualising her journey and while reading about it, I became more curious and eager to know what else is in the store with this story.
•    How according to you will this show spread the Khushiyon Wali Feeling to its audience?
o    To me, Khushiyon Wali Feeling means spreading happiness and warmth to the people around. Life is precious and one must celebrate every moment and spread smiles across. This show, along with its entertainment quotient will give its viewers moments of joy, hope, and teach them to stay strong, even during adversity.
•    What are your thoughts on the concept of the show?
o    The concept of the show is based on the real-life situations of a middle-class family, their dreams, and aspirations, along with highs and lows of their life. It's everything that has happened to most of us at some point in our lives but what sets the show apart is the way it will get the audiences hooked to it by its out of the box concept. The concept of this show blurs the line between the reality of our lives and the presence of divinity that we take for granted or overlook completely.
•    Have you sought any inspiration for this character?
o    Every Indian woman is my inspiration for this character because I feel every woman is a nurturer by nature. She always put the family before herself and we have seen our mothers, our grandmothers sacrifice their own needs to keep balance and harmony in our homes. It takes immense strength and selflessness which comes very naturally to every woman. Not just for this character but in real life too, I'm blessed to be around women who are my source of wisdom and strength. At the helm of this show, we have extraordinary women and men too.
•    This is a women-centric show, how is it going to create a difference?
o    I believe Indian television is altogether a woman centric medium. Irrespective of the concepts and storylines, the common theme of a television show is that it's from a woman's point of view. I believe this show is undoubtedly a real and divine story of three leading ladies. Through this show, we aim to bring forth the trials of a strong woman and showcase that being strong doesn't make anyone immune to pain or disappointments that life brings forth. This is one of the focus points that not many shows tend to focus on.
•    You have some talented co-actors like Nasir Khan and Chhavi Pandey, how has it been till now collaborating with them?
o    Nasir is a seasoned actor with a legacy that is hard to match. He's an immensely selfless co-actor and gives space to other actors to perform and project. Though it's only been a few days, I think my on-screen family and I share a great equation.
Chhavi and I share a great equation too. She's a beautiful and bright girl who observes everything before she reacts. This is something I admire about her and that makes her a great co actor.
•    What according to you is true devotion?
o    True devotion is being loyal and loving towards someone or something unconditionally. I believe devotion cannot be measured but can only be felt.
•    Any life philosophy that you personally believe in to attract abundance?
o    I believe abundance is a state of mind that manifests into reality. A positive mind and self-worth attract abundance, not just material wealth but healthy relationships too. My personal philosophy about abundance is "What one believes in is what becomes."

•    Savita is a strong character, any learning you have had playing her? Savita's journey for me has just begun. But I already adore the character as she brings out the selfless nurturer in me. Her childlike innocence and undying faith remind me of the things that eventually matter, which is happiness and peace of mind.
•    Any mantra you believe in or swear by?
o    Years ago, I came across a quote by actor Andy Garcia, and it has struck a chord with me- 'Never take a step back even for momentum's sake'
One must keep moving on even when things seem bleak. I believe this means that we are just being prepared for better things yet to come.
•    Any message for your fans/viewers?
o    Whenever I associate with a new show, I hope that my fans love and accept me in that character and appreciate my work. I urge all my fans and viewers to give this character as much of the love that they have given me for my previous works.