Santoshi Maa Sunaye Vrat Kathayein makers source real crystals for Maa's Mukut
The grand mukut has been designed by special craftsmen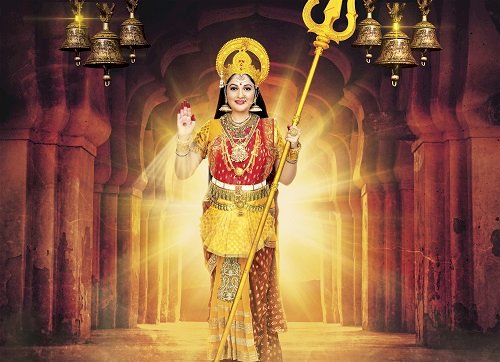 &TV's newest offering Santoshi Maa Sunaye Vrat Kathayein is all set to take the viewers through the true reasons and beliefs behind fasting and proper ways of worshiping through the rituals of Vrats. Known as the Goddess of love, peace, sacrifice, goodwill, and contentment, Santoshi Maa possesses many mystical powers and always helps her devotees bring order to their disorder. The show marks the comeback of Gracy Singh who will be playing Santoshi Maa. The highlight of her divine avatar is her glorious mukut (crown) that graces her head. The makers very keen to have a specific kind of mukut with detailed designing and left no stone unturned to ensure it was in place.   
 
To enhance the look further and bring out the grandness, certain elements were added making the divine Goddess look more glorious and magnificent. The grand mukut has been designed by special craftsmen who have taken into consideration every detail in the mukut that reflects the beauty and holiness of the Goddess. The ornate designs and the red crystals embedded in them were specially sourced from Rajasthan. The mukut roughly weighs 3.5kgs and utmost care has been taken while using it for scenes.
 
Talking about wearing this fine piece Gracy shared, "The entire experience of getting back as Santoshi Maa once again still feels surreal. The special crown that is designed for the character isn't just beautiful but also very delicately and wonderfully crafted. The makers have taken a lot of effort into getting this made and while handling this we have to be extremely careful, as this not only has a religious aspect, but is also extremely valuable and delicate. There are two people on the set especially there at all times to help me wear the mukut".