Role of higher education institutes during and after covid crisis discussed at PU Webinar
Prof.Raj Kumar Vice chancellor, Panjab University  extended formal welcome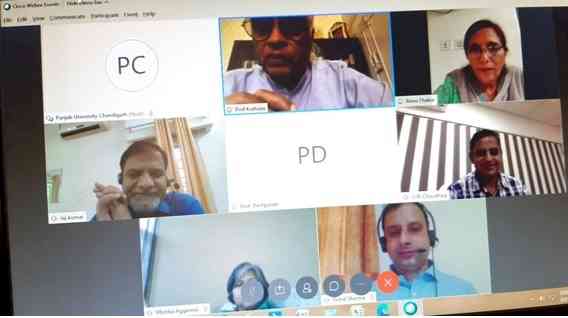 Chandigarh: The Interdisciplinary Center for Swami Vivekananda Studies, Panjab University, Chandigarh and Panchanada Sansthan Chandigarh jointly organised a webinar on the topic "Role of Higher Education Institutes During and After COVID Crises".
Prof.Raj Kumar Vice chancellor, Panjab University  extended formal welcome to the guests and appreciated the topic of the webinar. He pointed out that the role of higher educational institutions during and after COVID-19 is especially important and stressed that quality consciousness in education is a must. The basic essence is thus to imbibe value-based practical education. 
Prof.B. K Kuthiala, patron Panchanada Sansthan Chandigarh opined that if we want to take higher education to the expectations of the society then higher education institutions need to understand their role, obligation, and commitment towards the society.Total 90% of the governance team passes out from higher education institutions, how people are doing work at all levels depends upon what they learnt from these institutions. Hence the role of higher education institutions is very important in creating sincere and devoted workers who can work for the upliftment of the society. 
Prof. Anirudha Deshpande, an eminent educationist and Akhil Bhartiya Samark Pramukh, RSS highlighted that there are 40 crore students in higher educational institutions. There is a serious need to change the way in which education is being imparted.The changes are required not only in teaching pedagogy but  in delivery mode i.e. offline and online and sitting arrangements in classrooms.All these issues are to be addressed. There is a paradigm shift in higher education due to COVID-19. The honourable Prime Minister, Shri Narendra Modi has given the concept of Atma Nirbhar Bharat  for which  technology  to be adopted  to move forward. However, he emphasised that dialogue between student and teacher is very important so this needs to be ensured. Though Indians are always ahead in research, we need to concentrate on quality research having social relevance and applicability. Academia-industry interface is must so as to impart practical education to the students which is socially relevant. New education policy focuses on vocational and skill-based education.The higher educational institutions should focus on introducing specialised and multidisciplinary courses which can generate employment.
The lecture was followed by discussions and observations on the topic in which the participants actively took part. The  interactive session  was moderated by Dr. Vishal Sharma, from the department of Forensic Science and Criminology, PU. Prof. Renu Thakur, Coordinator ICSVS conducted the proceedings and proposed the vote of thanks.