Roadmap to be prepared to increase income of Zila Parishad Ludhiana
Also to carry out overall development of villages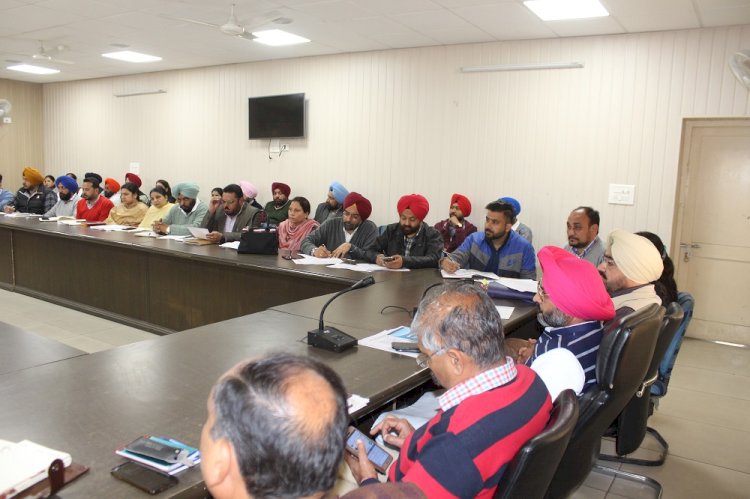 Ludhiana: Mr Yadwinder Singh Jandiali, Chairman, Zila Parishad, Ludhiana today asked officials of all government departments to take elected representatives into confidence while carrying out development works and while organising awareness camps in the district. He also said that the benefits of government welfare schemes should be provided to maximum number of people.
Mr Jandiali said this while chairing a meeting regarding development works at Zila Parishad office, here today. Zila Parishad Secretary Mr Charanjot Singh Walia, besides several others were also present in the meeting.
During the meeting, it was decided that a roadmap would be prepared to increase the income of Zila Parishad and also to carry out overall development of villages. While addressing the meeting, Chairman Yadwinder Singh Jandiali said that MGNREGA was started to uplift the standard of people of people living in rural areas during the tenure of former prime minister Dr Manmohan Singh. He directed the officials that all ongoing works under MGNREGA should not be stopped at any cost and should be completed on priority basis.
He also directed the officials to ensure that the benefits of all welfare schemes should be provided to the residents. He said that in democracy it is necessary to pay respect to the elected representatives and the elected representatives should be respected by all government officials.
During today's meeting, the Zila Parishad Chairman interacted with officials of all concerned government departments and reviewed the development works being carried by their respective departments. He also urged them to organise awareness camps on large scale so that the benefits of government welfare schemes reach at grassroots level.