Road Safety Virtual Meet with Novartis Employees held
Traffic Police are in the forefront of leveraging digital technology: SM Vijay Kumar, DCP Traffic, Cyberabad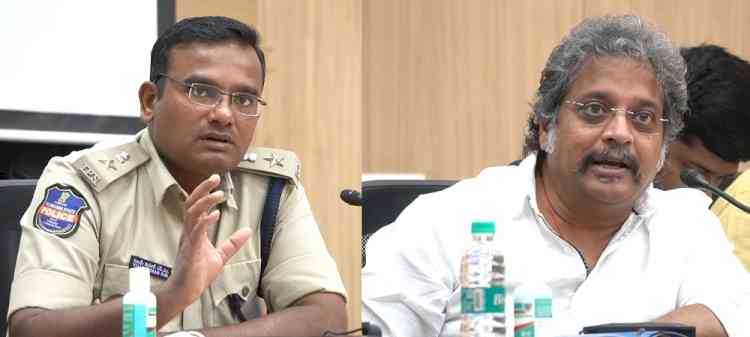 Hyderabad: SCSC (Society for Cyberabad Security Council) and Cyberabad Police have jointly organised a Road Safety Virtual Meet with Novartis Employees here in the city today. 
 
 It was presided over by DCP Traffic Sri SM Vijay Kumar, IPS and Convenor Traffic Forum, SCSC.  It was Coordinated and Addressed by Mr. Venkat Tankasala, Jt. Secretary, Traffic Forum, SCSC.
 
Addressing the virtual gathering Mr. SM Vijay Kumar said that they were focusing on two major concerns of the majority of the accident victims---the Bikers and Pedestrians. The lion's share of accidents are of Bikers and Pedestrians.  Out of the total number of accidents that are taking place 60 to 70% are of the Bikers and Pedestrians, he informed.
 
Giving his observations, Mr. Vijay Kumar said that it was noticed that Bikers do not follow the lane discipline, do not wear high quality helmets, drive in a zigzag way in the heavy traffic, drive very closely to the heavy vehicles, enter the highway without proper observation, etc.
 
India has a national helmet law.  It made it mandatory for both motorcycle drivers and pillion riders to wear helmets. But, the enforcement of this law rests with individual states. And not all states act very strongly on it
 
He expressed his anguish that not many wear helmets.  Even if they wear it, they don't wear it properly.  Even if they wear they buy a substandard product which is easily breakable.  Not many pay attention to the standards of the helmet.  Majority of the pillion riders do not wear a helmet at all.  Pillion Riders are mostly the victims of the fatal accident because they don't wear them.
 
Many people around the world die in motorcycle collisions because of wearing substandard helmets. A reliable and high quality helmet saves precious lives. Even if one life saved a day, 365 lives are saved in a year their families are protected from devastation. 
 
A helmet protects your head.  Helmet use is effective at reducing head injuries.
 
To Counter this, Mr Vijay Kumar informed his participants that  the Cyberabad Traffic Police has set up Seven Check posts with dedicated Teams working 24x7 whose work is not to allow any Two Wheeler to drive without wearing Proper Helmet by both the Rider and the Pillion Rider – which is giving good results and helped in reducing the Fatal Accidents.
 
Speaking about Pedestrian Safety, he said, the Cyberabad Traffic Police is coordinating with GHMC for their safety. They have already set up Four Road Crossing exclusively for Pedestrians.
 
GHMC & CTP have introduced Comprehensive Road Maintenance Program (CRMP) which is a PPP Module under which the Pedestrian Safety measures like; Construction of Foot Paths, Foot Over Bridges, Road Cross Markings, Sign Boards, etc., are been set up. And about 14 new FOBs (Foot Over Bridges) and 31 Exclusive Pedestrian Road Crossings are under process.
 
At the end Vijay Kumar interacted with the employees and answered their questions, clarified doubts if they had any. Replying to a question he said  lane markings of all the Roads in the is not possible.  That is because of the small length of Roads and merging of the Bye Lanes etc are impediment. So,  lane marking of all the roads inside the city is not possible. But for long distance roads like Highways and ORR we can see the lane markings very clearly.
 
Replying to another question on midnight racing Mr Vijay Kumar said, booking of cases with the help of CCTV footage is giving good results.  The police are taking a stern action including confiscating their licence or cancelling the same. 
 
The traffic police are in the forefront of leveraging digital technology.  The good example is contactless and cashless e-challans.  Telangana is the First State in the country to initiate this he said.
Integrated Traffic Management System (ITMS ) Project which is being implemented by L&T has many analytics and AI based projects. It is a Digital Platform and helps Police minimize the manual efforts and bring down the Violations, Accidents, etc., and improves the Safe Driving for the Public, he shared.