Ludhiana second most unsafe city in India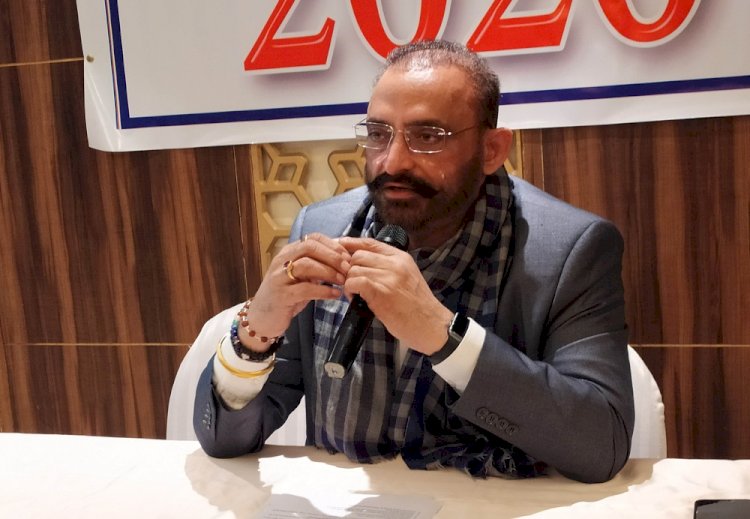 Dr Kamal Soi Chairman of the NGO Raahat addressing the media persons at Ludhiana on Tuesday.
Ludhiana: Ludhiana loses close to 350 people every year & more than 500 are seriously injured in road accidents. The fatality rate is as high as 68% making Ludhiana second most dangerous city on the roads in the country first being our own holy city Amritsar.
Disturbed, pained & shocked at the state of affairs on Road Safety, Dr Kamal Soi Chairman of the NGO Raahat - The Safe Community Foundation & Member- National Road Safety Council, GOI , Ministry of Road Transport & Highways, decided to take it on, this very serious Socio, Psycho & Economic issue in a big way by undertaking following activities and rolled out "Mission Safe Ludhiana 2020".
Mission: 
•         To reduce Number of Deaths on the Roads by 25 % in the year 2020
•         To Help in ensuring Less Traffic Jams & ensure Safe, Reliable & Ease of mobility.
Dr Kamal Soi & his NGO Raahat - The Safe Community Foundation have been taking up the issues of road safety from last about 20 years and has been recognized at State, National & International level for the work done in this field.
Addressing the media persons he said that Ludhiana is regarded as City of Jams & City of Deaths , in the in last three years only 1100 Deaths have occurred in road accidents leading to a loss of precious human lives as well as financial loss of approximately 500 crores  due to fuel wastage , man hours loss , loss of productive hours & frequent traffic jams etc.
He said that Although there are various reasons for this high fatality rate but he considers poor road infrastructure as one of the main reasons, and the same can easily be improved with little effort. He added that Ludhiana road infrastructure is bad from road or traffic engineering point of view, the design of roads are inherently unsafe (there is very little separating opposing traffic flows, eliminating cross traffic, and providing wide shoulders and traffic lanes and poor visibility compounds the problem), this we can find on Jagraon flyover, Gill flyover, apart from just separating the traffic no effort is being made for a safe infrastructure .
He emphasized that No road safety audit is done & roads are laid without proper planning . You will not find road markings & road furniture is absent from most of the roads. Everywhere in World we talk of crash barriers here in Ludhiana you will find big concrete blocks spread everywhere like a Static Death Traps on the roads. If a car/two wheeler driver hit these concrete blocks death is certain . Is it the poor knowledge & understanding of civic authorities or is it the lack of money for safe road furniture or scant respect for human life.
Dr Soi enunciated that SPEED is the single biggest factor contributing to road deaths in India & more particularly in Ludhiana. Over 40% of fatal collisions are caused by excessive or inappropriate speed. We don't have any mechanism to enforce speed limits in Ludhiana. And the famous FOBC- Fear of being caught over speeding in Ludhiana is not there . People drive at reckless speed endangering their own & others lives. A 5km/h difference in speed could be the difference between life and death for a vulnerable road user like a pedestrian.
He highlighted that existing roads infrastructure can be Improved
•         By  realignment, improving vision, and resurfacing slippery surfaces , having safe road furniture , road markings / zebra crossings , freeing footpaths from encroachments .;
•         Regulating traffic movement by installing traffic signals, traffic islands, road markings, and regulatory signs such as "stop" and "give way" signs;
•         Assisting the driver with warning and destination signs to avoid danger and confusion can reverse the situation a bit.
"Mission Safe Ludhiana 2020" plan of action involving all four pillar of democracy. The details are as under:
1.       HSRP Number plate Affixation & monitoring for effective enforcement
2.       Involvement of all stake holders  Administration, Civic Authorities, Police  Politicians , Press , Transport Department , Public & Judiciary .
3.       Issuing of Driving Licenses / Testing Tracks .
4.       Scientific Enforcement based on the Violations
5.       Safe School Vahan Policy
6.       Police Station wise monitoring of Road Accidents , Deaths & Traffic Jams
7.       Road Safety Audits &  Condition of Roads with improvements on potholes etc
8.       Correction of Black Spots
9.       Commercial Vehicle Testing for  Fitness & Road Worthiness
10.    Conditions of Roads , Road Cuts, Traffic Lights , Potholes and ongoing projects .
11.    Emergency Medical Services – TRIAD.
12.    VTS/ GPS in Public Service Vehicles for women, children & safety while in distress. 
13.    National level Road Safety Conference in March 2020.
14.    Yearly Road Safety Award for Enforcement, Education, Engineering, Individual & NGO Category.
15.    Media Briefing Every month for activities undertaken, Success & Failures.
 
Dr Soi said that special focus has to be the implementation of High Security Registration Plates in Ludhiana . he urged government to expedite the process of implementation of high security registration plates (HSRP) on new as well as old vehicles as this is a issue of National Security and can go a long way in curbing vehicle borne crimes.  He informed that State Transport Department has already implemented restrictions for any transaction without affixation of HSRP. and the process of applying is now being made easier as customer can now apply HSRP online for old/existing vehicles in addition to implementation of appointment system for affixation of HSRP , but implementation of HSRP on Old vehicles and lack of enforcement still remains a major challenge. Temper proof HSRP plates are affixed with non-removable and non-reusable snap locks and their Reflectivity index  improves vision specially at night and during foggy season.
 
Activities already undertaken by Dr Kamal Soi &  NGO Raahat - The Safe Community Foundation:
1.       Motor Vehicle Amended Bill 2019
2.       High Security Registration Number Plates – For Visibility in Fog & Otherwise, Effective Enforcement & Law and Order.
3.       Speed Governors for Controlling Speed in Commercial Vehicles
4.       Safe School Transportation – Satmev Jayte & Saving Lives Project
5.       VTS/ GPS in Public Service Vehicles  
6.       Identification of Black Spots ,
7.       Road Safety Policy  &  Road safety Audits
8.       Safe Outdoor Advertising Policy
9.       Training of Police Personnel
10.    State level Road Safety Conference in CMC.