Review meeting related to necessary arrangements in containment zones held
Ration should be provided to needy, lists to be provided by police department: DC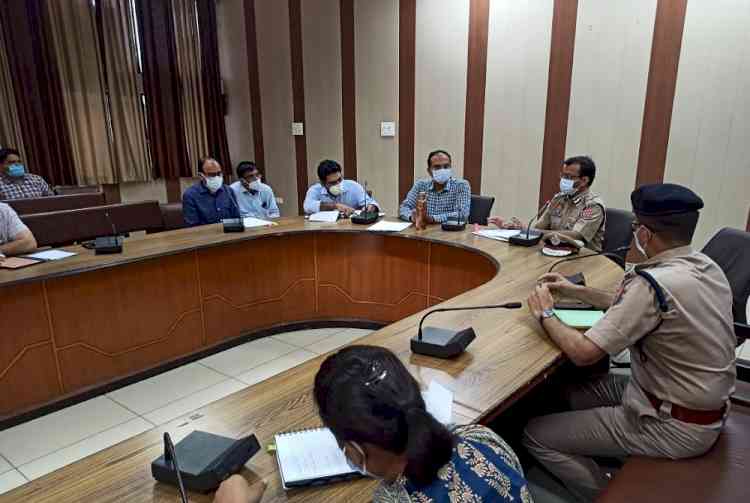 Ludhiana: Under the Mission Fateh of the Punjab government and to check the spread of COVID 19, three containment and three micro containment zones have been declared in district Ludhiana. A meeting to review the necessary arrangements to be made in these zones was held at Bachat Bhawan, here today. This meeting was attended by Deputy Commissioner Mr Varinder Sharma, Commissioner of Police Mr Rakesh Kumar Agrawal, besides other officials.
    During the meeting, the Deputy Commissioner directed the concerned SDMs and Assistant Returning Officers to provide ration to people staying in these zones on priority basis and the list of beneficiaries would be provided by the police department. The work of distribution of ration would be done by officials of Punjab Food, Civil Supplies & Consumer Affairs Department.
    Mr Sharma informed that as per the directions of the health department, a district level committee comprising MC Additional Commissioner Mr Sanyam Aggarwal, Civil Surgeon Dr Rajesh Kumar Bagga, District Epidemiologist Dr Ramesh Kumar and Medical College head Dr Clarence Samual, to identify containment and micro containment zones have been formed in the district. He said that containment and micro containment zones are declared on the basis of recommendation of this committee.
    Commissioner of Police Mr Rakesh Kumar Agrawal told the committee members that they should try to keep the area of containment/micro containment zone minimum so that no many people suffer due to restrictions to be enforced. He warned of strict action against people who are not following the directions of the health department. He said that surprise checks of hotels, restaurants and other places would be done to find out those who are not following directions of Punjab government. The Deputy Commissioner said that joint teams of excise department and police department would be formed. Similarly, checks of buses and autorickshaws would also be done.
    Deputy Commissioner Mr Varinder Sharma said that the three micro containment zones declared today include New Model Town (street no 1, 2 & 3 behind Dhamija Medical Hall), New Janta Nagar (streets no 1, 2 & 3) opposite New Model Town and Bhamian Khurd (street no 1 to 4 in Krishna Colony). At these micro containment zones, 5, 11 and 11 positive patients have been found respectively. All these areas have been sealed and the concerned departments have been asked to take necessary action.
15 MORE PATIENTS GET CURED IN DISTRICT LUDHIANA TODAY
Ludhiana: Deputy Commissioner Mr Varinder Sharma today informed that under the "Mission Fateh" of the Punjab government, the number of COVID 19 patients getting cured in district Ludhiana is increasing with each passing day. He informed that 15 more patients have been declared cured in last 24 hours. He said that till now, the total number of patients discharged from hospital has reached 410. Besides, 34 more positive cases have been reported in the district, who are residents of Ludhiana and other districts/states.
    He further said that till date, a total of 27548 samples have been taken, out of which report of 26461 samples has been received, of 25643 samples is negative and report of 1087 samples is pending. He said that now, the total number of patients related to Ludhiana is 649, while 169 patients are related to other districts/states.
He said that unfortunately 18 people from Ludhiana and 14 from other districts have lost their lives. He said that 410 patients related to district Ludhiana have been discharged from hospital after treatment.
    He informed that till date, 12649 persons have been kept under home quarantine in the district and at present, the number of such persons is 3773. Today, 250 persons were sent for home quarantine.
    He said that whenever District Administration and Health Department Ludhiana finds out that about any positive or suspected COVID 19 person, their samples are immediately sent for testing. Similarly, 997 samples of suspected patients were sent for testing today and their results are expected shortly.
    Mr Sharma appealed to the residents to follow all directions of the Punjab government and if they would stay indoors, they would not only stay safe themselves, but would also contribute in keeping everyone around safe.