Remembering Shaheed-E-Azam Bhagat Singh On His Martyrdom Day – 23rd March
Article by Harpreet Sandhu – Advocate, Author and Nature Photographer on the Martyrdom Day of Shaheed-e-Azam Bhagat Singh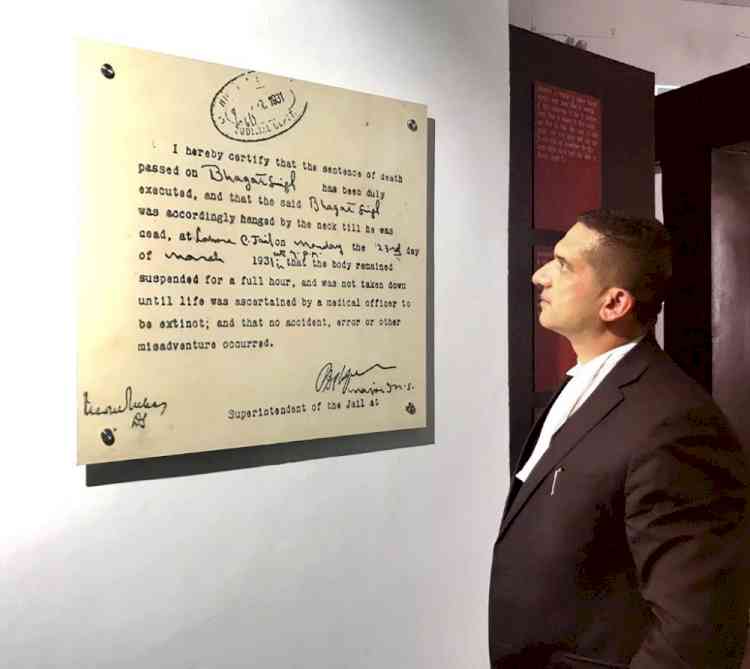 A message for the youth of Punjab to visit the Patriotic Museum at the birth place of this great Martyr - Khatkar Kalan 
Today on the 90th Martyrdom Day of Shaheed-e-Azam Bhagat Singh (23rd March) who along with his accomplice legend freedom fighters raised the banner of revolt against British Imperialism to wrest freedom for India by sacrificing his life and proved to be one of the most influential revolutionaries of the Indian independence movement having major contribution towards freedom struggle for our nation. His martyrdom prompted youth in India to begin fighting for Indian independence. Hence it is most essential to highlight this museum particularly within the youth as majority of them are not even aware about this well preserved museum by Punjab Government, situated near by the ancestral village of Shaheed-e-Azam, Khatkar Kalan in Shaheed Bhagat Singh Nagar (Nawanshahr)
 
Anyone who visits the museum is filled with patriotic emotions witnessing the memorable belongings of the revolutionary martyrs of the Punjab, particularly the pen which was used by the executioner for signing the death sentence of Shaheed Bhagat Singh, Rajguru and Sukhdev is displayed. Two original pages of Jail diary in which Shaheed-e-Azam Bhagat Singh took notes of the books he studied in the Jail is also exhibited in the museum. Moreover copy of Judgment of the 1st Lahore Conspiracy case in which Shaheed Kartar Singh Sarabha was sentenced to death with Shaheed Bhagat Singh's scribed notes in his own handwriting on this copy is also a notable exhibition at the museum. Youth must particularly read the message which has been very promptly embossed on the statue of the great martyr to his Country's fellowmen and propagate his passion for the country on social media platform. They must also visit the ancestral house of the Martyr which is also at a short distance from the museum, where the personal belongings of Shaheed Bhagat Singh are preserved. 
It is need of hour for the educational institutions to organize trips for students to this historical museum so that zeal of patriotism for the country is imbibed within their minds. I felt after witnessing this magnificent monument at Khatkar Kalan which showcases the historic era of Shaheed – E – Azam Bagat Singh  really reminds us the supreme sacrifice of this legend martyr for our mother land.
 
The author previewing the certificate displayed in the Museum endorsing the execution of death sentence by the Superintendent of Jail and the preserved pen used by the judge to write the death sentence to Shaheed Bhagat Singh, Rajguru and Sukhdev during his visit to Shaheed-e-Azam Bhagat Singh Museum Khatkar Kalan, SBS Nagar.