RCF bids farewell to year 2020 with record coach production
RCF will carve a niche in the history of Indian Railways in year 2021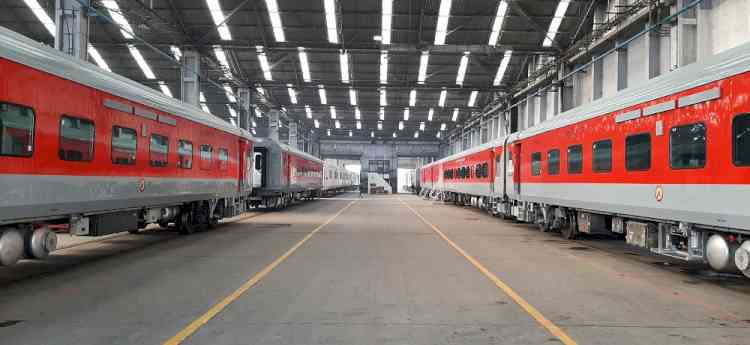 Kapurthala: Rail Coach Factory, Kapurthala is continuously setting new records in the production of coaches.
RCF registered a record highest monthly production and average daily record production of LHB coaches in December 2020. This month RCF manufactured 154 coaches with an average daily production rate of 5.92. In November, RCF manufactured 124 coaches to achieve an average daily production rate of 5.9, whereas in October 2020, 147 coaches were manufactured at an average daily production rate of 5.88 coaches. In September of fiscal 2020-21, RCF manufactured 152 coaches which was the maximum production before December.
In December, 50 light weight parcel coaches and 46 AC coaches were produced which is the best ever production in any month.
In the first 9 months of this financial year 2020 -21, RCF has achieved a remarkable achievement by manufacturing 1029 coaches. These include 292 parcel vans and 251 AC coaches.
Shri Ravindra Gupta, General Manager congratulated the entire staff and officers for achieving this milestone of record monthly production and daily average production by RCF. He said that RCF took a positive approach amidst the spread of Covid, optimizing its production system and started production work in the factory with full commitment and loyalty from 23.04.2020 and expanded its production to a new phase. This increase in production despite the epidemic reflects the persistence and dedication of the RCF staff. Interestingly, despite a dip in manpower and the supply chain of goods during the Covid ,the production rate of almost 6 coaches per day has been achieved , which is the highest in the history of RCF. 
Congratulating the entire RCF family on the New Year, he said that he is confident that RCF will carve a niche in the history of Indian Railways in year 2021. This year many new products such as 3 Phase MEMU, AC three tier economy class etc. will be manufactured which will be considered as important coaches in the fleet of rail coaches produced by RCF. / (Rajat Kumar, Jalandhar)