Ravi Mahashabde turned another year older
Recently celebrated his birthday with the cast and crew of &TV's show Gudiya Humari Sabhi Pe Bhari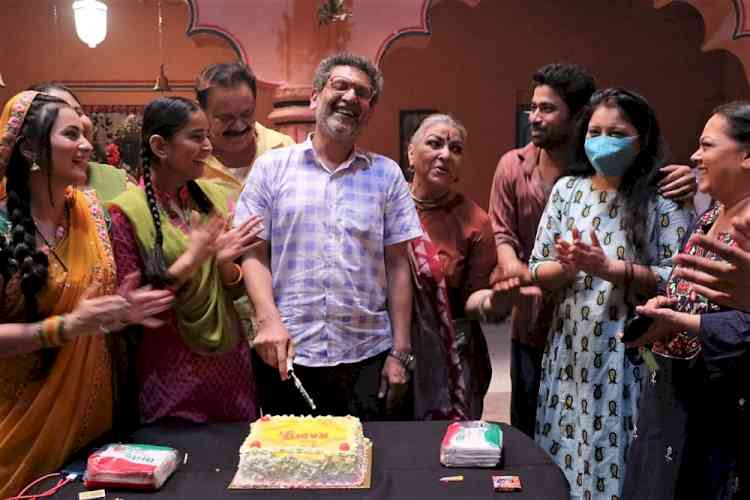 &TV's Radhe aka Ravi Mahashabde celebrates her birthday with his co-stars on the set.
A theatre and television personality with notable plays and shows to his name Ravi Mahashabde turned another year older. Ravi recently celebrated his birthday with the cast and crew of &TV's show Gudiya Humari Sabhi Pe Bhari. With the portrayal of the character of Radhe, Ravi has been winning hearts of viewers as loving and caring father of Gudiya (Sarika Bahroliya) Having low key celebrations this year the actor celebrated his birthday by getting some sweet treats for his co-stars. Sarika Bahroliya (Gudiya), Manmohan Tiwari (Pappu), Samta Sagar (Sarla) and Shweta Rajput (Sweety).

Expressing his joy on this special day Ravi shares, " Like every year, I am thankful to everyone who has been a part of my journey till now. It has indeed been a wonderful journey so far. While growing up, I eagerly used to look forward to my birthday as that day parents would not scold me and let me do all the mischief. I miss my childhood days now. This year I celebrated with my extended family, as I call them lovingly, on the sets of Gudiya Humari Sabhi Pe Bhari by cutting a delicious cake. Back home, a scrumptious meal comprising of all favourite food was made to end the day on a special note. It was indeed an amazing day for me."