Rare cancer in abdomen's main vessel treated successfully
Patient now perfectly fine and working and eating well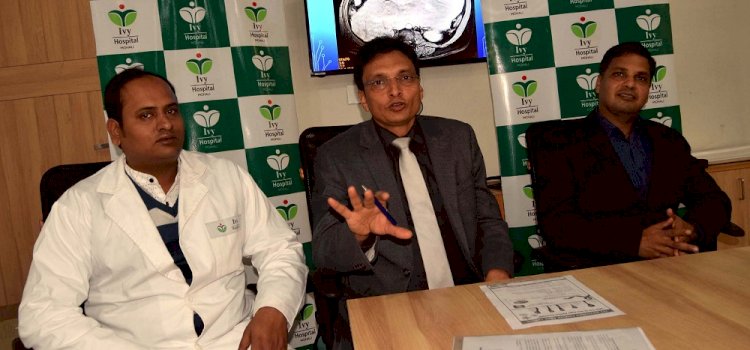 Mohali: A 45-yr male patient suffering from a rare cancer of inferior vena cava (IVC) treated successfully at Ivy Hospital, Mohali recently. IVC is a large vein that carries deoxygenated blood from the lower and middle body into the right atrium of the heart.
 
Surgery was performed by Dr. Vijay Bansal, chief cancer surgeon along with Dr. Avinash Srivastava, kidney transplant surgeon and Dr. Srinath, vascular surgeon at Ivy Hospital.
 
Addressing a press conference at Ivy Hospital on Wednesday, Dr. Bansal informed that the patient was presented with a huge tumor about 30x25 cm in size involving whole of the abdomen. This tumor was arising from the biggest vessel of the body and from the junction of left renal (kidney) vessel and Leiomyosarcoma of IVC, he pointed out.
 
This is a rare tumor i.e sarcoma of IVC which involved a very complicated surgery.
 
Surgery was lasted for 6-hours where we have to remove the tumor from IVC which was very hard to do due to location of tumor and risk involved in doing the surgery.
 
As the tumor was also very near to left kidney, thus in order to remove cancerous tumor an auto transplant of left kidney vein with IVC after excision of the tumor were done, said Dr Bansal.
 
Dr. Bansal who was earlier worked with Tata Memorial Hospital, Mumbai said that due to high-risk surgery and huge tumor, this was major surgery and was possible due to the availability of the super-specialty team and best equipment at Ivy Hospital. The best part of the surgery that the tumor was fully excised without sacrificing the kidney and any important organ, he maintained.
 
The patient is now perfectly fine and he is working and eating well without any complications.