Ranga feels honoured by felicitating women on their achievements
Punjabi Sahitya Academy Ludhiana organised award function at Ramgarhia Girls College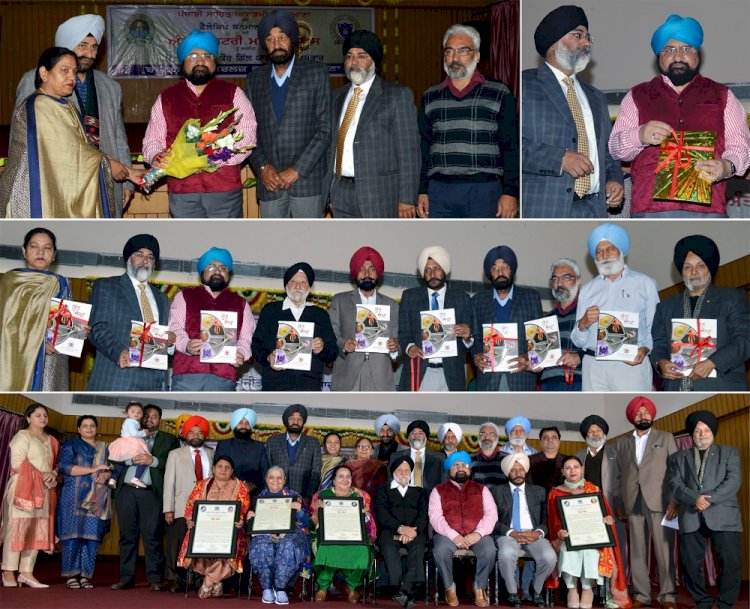 An Award Function in association with Punjabi Sahit Academy, Ludhiana being held at Baba Gurmukh Singh Hall, Ramgarhia Girls College, Ludhiana on Saturday. Photograph by: PS Dhamija
Ludhiana: To celebrate the Women's Day, PG Department of Punjabi of Ramgarhia Girls College organised an Award Function in association with Punjabi Sahit Academy, Ludhiana at Baba Gurmukh Singh Hall. 
S. Arvinder Singh Ranga, Commissioner of Central Excise and Custom was the Chief Guest. 
Prof. Gurbhajan Gill was also present as the special guest. 
Principal Dr. Inderjit Kaur and S. Ranjodh Singh, President Ramgarhia Educational Council, Prof. Ravinder Singh Bhattal,(President, Punjabi Sahit Academy Ludhiana), Dr. Surjit Singh(Secretary, Punjabi Sahit Academy Ludhiana ), and Dr. Guriqbal Singh ( Convener, Punjabi Sahit Academy, Ludhiana) extended a warm welcome to the esteemed guests.
The prestigious award of Fellowship was awarded to Dr. Sukhdev Singh, Former President, Punjabi Sahit Academy Ludhiana. 
Dr. S.P. Singh,Former Vice Chancellor, Guru Nanak Dev University Amritsar proceeded the function. 
Prof. Nirapjeet Kaur Gill Memorial Award was felicitated to late Prof. Kawaljeet Kaur, Dr. Jasvir Kaur Kesar,Dr. Rameshinder Kaur Ball, Prof. Gurnam Kaur Bedi. 
Dr. S. P. Singh expressed his views by saying that it is the era of Women Empowerment and indeed women have proved that they are not at all inferior as they were thought of for centuries. They have proved their mettle in every field. 
S. Ranga asserted that on occasion of International Women's day it becomes all the more important to commemorate the achievements of women and he feels honoured to felicitate Women on their achievements. 
S. Ranjodh Singh expressed his views by congratulating women and added that women are the main pillar of society and no society can grow by ignoring the value and the contribution of female members of the society. 
Principal Dr. Inderjit Kaur considered women to be the best creation of God in her address. She further added that women play various roles in her life but her dedication never fails irrespective of the pressure she endures during her life. So she always deserves respect and support to grow further.
On this occasion College magazine of the academic session was also released by the prominent guests.
S. Gurcharan Singh Lotey, General Secretary Ramgarhia Educational Council thanked the guests.
Another report says:
Dedicated to International Women's Day, Prof Nirpjit Kaur Gill Memorial Award function was held at Ramgarhia Girls College, Miller Ganj, here today. Four women professors of Punjabi literature, namely Late Prof Kanwaljit Kaur, Retired Professor, Government College for Girls Ludhiana, Dr Ramesh Inder Kaur Bal, Director, Partap Educational Institutions, Ludhiana, Dr Jasbir Kaur Kesar Chandigarh and Dr Gurnam Kaur Bedi, were awarded with Prof Nirpjit Kaur Gill Memorial Awards.
Dr SP Singh, former Vice Chancellor, Guru Nanak Dev University was the chief guest, while Mr Arvinder Singh Ranga IRS, Commissioner, Central Excise and Customs was the guest of honour.
This award has been set up by the family of Prof Gurbhajan Singh Gill in the memory of Prof Nirpjit Kaur Gill. This award would comprise of a citation, a shawl and Rs 21,000 cash prize. Prof Nirpjit Kaur Gill was a professor of Punjabi language at Ramgarhia Girls College, Ludhiana, from 1983 till 1993.
During this function, Punjabi Sahit Akademi former president Dr Sukhdev Singh Sirsa was also conferred with fellowship by the Punjabi Sahit Akademi Ludhiana.
Prominent among those present on the occasion included Mr Ranjodh Singh, Mr Tej Pratap Singh Sandhu, Punjabi Sahit Akademi President Prof Ravinder Bhathal, General Secretary Dr Surjit Singh, Dr Sarabjit Singh, Dr Maan Singh Toor, Mr Gurjit Singh Dhillon, Mr Pirthipal Singh Hayer SP, Mr Puneet Pal Singh Gill, Mrs Jaswinder Kaur Gill, Prof Ravneet Kaur Gill, Mrs Rajdeep Kaur Dhillon, Mrs Gurkiran Kaur Hayer, Dr Kuldeep Singh, Mr Trailochan Lochi, Dr Guriqbal Singh, Mr Jagbir Singh Sokhi, Mr Bhagwan Dhillon, Mr Dalvir Ludhianvi, Dr Inderjit Kaur Principal, Prof Rajeshwarpal, Prof Tajinder Kaur, Mr Surinder Kailey, Dr Gulzar Singh Pandher, besides several others.