Rana Sodhi unveils statue of Shaheed Udham Singh in Guruharsahai
Also, laid foundation stone for renovation of FF road up to Midda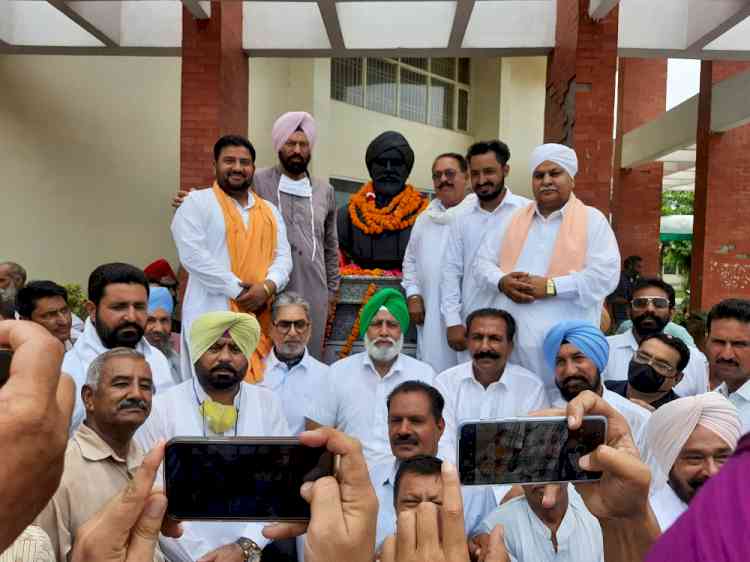 Ferozepur: Rana Gurmeet Singh Sodhi, Cabinet Minister for Spots, Youth Services and NRI Affairs, Punjab today unveiled the statue of Shaheed Udham Singh at SUS Panjab University Constitution, Guruharsahai at village Mohan Ke Hithar, on the occasion of his martyrdom day.  Meanwhile, Baba Baba Hermes Dass, a devotee of Baja Ke Dera Baba Ram Thaman, offered prayers.
Addressing the press and citizens of the area, Rana Gurmeet Singh Sodhi said that it was due to the sacrifices of such martyrs that we are enjoying free environment today and it was his wish to set up a college at Guruharsahai and this wish was fulfilled by Capt Amarinder Singh led government and the villagers  provided land for setting up a college here.
Sodhi said that now we got the opportunity to install the statue of Shaheed Udham Singh and with this the coming generations will know the sacrifice of great martyrs.  He said, Sheheed Udham Singh did not let the spark of revent for killing of unarmed and innocent Punjabis in 1919 by Michael O'Dwyer, go out of his mind for 20 years and the Jallianwala Bagh massacre was avenged by Udham Singh by shooting Michael O'Dwyer on March 13, 1940 and later he was hanged in Lodon jail on July 31, 1940.
He further said that our young generation should not let the sacrifices of martyrs go unnoticed and should become a good citizen and strengthen the foundations of the society and make the dreams of martyrs come true.
Acknowledging the support of the people of the area, Sodhi said that it was due to you that I have become MLA and Minister and I have always tried my best not to leave any stone unturned in the development of the constituency. With this in mind, the roads, parks and squares of the constituency have been beautified with LED lights. On this occasion the district president of Iqbal Singh Pala Batti Kamboj Mahasabha Ferozepur also shared with the audience about the life and martyrdom of Shaheed Udham Singh.
Later, Cabinet Minister Rana Gurmeet Singh Sodhi laid the foundation stone for the renovation of the road from FF Road to Midda – 2450 meters long and 18 feet wide – at a cost of Rs.134 lacs, which would benefit the people of the area and would also reduce the risk of accidents. He also allowed the putting up lock tiles on both sides of Thara Singh Wala Moud at a cost of Rs.20 lacs.
On this occasion, a large number of constituency residents and Congress leaders including Amritpal Singh, Naseeb Singh Congress leader,  OSD Vicky, Ravi Chawla Chairman Market Committee Mamdot, Ved Prakash Chairman Market Committee, Ravi Sharma Arthia Association President Guruharsahai, Hans Raj Batti, Kashmir Lal were present.