Rajewal releases Rotary Club poster for "Ek Haath Aasha Ka" Free Limbs Camp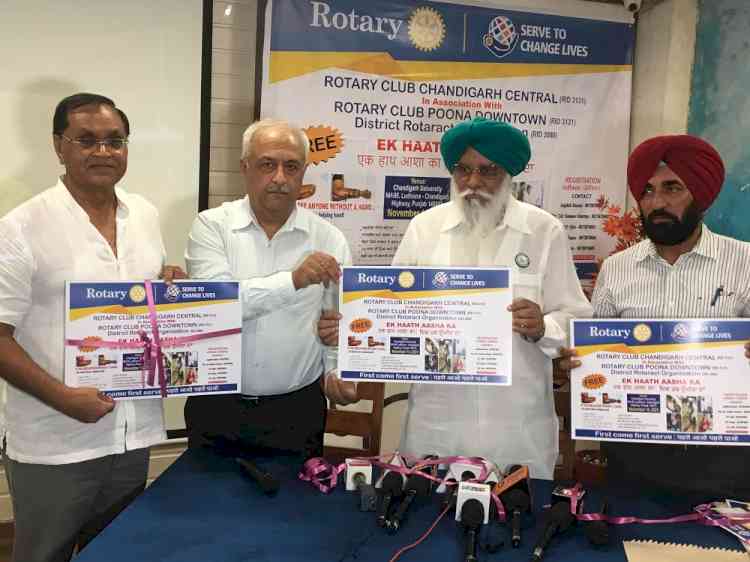 Chandigarh, September 4, 2021: Rotary Club Chandigarh Central, is organising a Free Limbs camp - Ek Haath Aasha Ka, will be held at the Block 9 of Chandigarh University, Gharuan located on the Ludhiana-Chandigarh Highway (NH 95) in Punjab on 14th November, 2021  in association of Rotary Club Poona Downtown.
A poster of the event was unveiled today by farmers' leader Balbir Singh Rajewal, at the Press Club, Chandigarh. Former President Rajinder Singh Cheema, N. S. Aulakh, RDS Riar, Harish Gupta, Pradeep Chopra, Rotarians Sulalit Gupta, Baljit Sandhu, Deepak Verma, Vibhu Bhatnager also present in this occasion.
Ashish Midha, President, Rotary Club Chandigarh Central said, "The free limbs camp will be organized for the children above 10 years of age and elders, who have lost their hands in some accident or had to get it amputated otherwise. We will provide light, durable and functional prosthetic hands to the needy people. The US made prosthetic hands, weighing 400 gram only, can be fitted below the elbow. No charge will be taken from the beneficiaries."
This is first such camp in the northern region. The beneficiaries after getting the prosthetic hands will be able to perform various day to day functions like using the computer keyboard, eating, lifting light weight, digging, writing or doing the household activities, added Midha.
The Rotarians of Chandigarh Central club are already moved by the emotions of prospective recipients who have started calling the members on getting private information of the Project. They are in fact enjoying giving their time and service to fulfill Rotary's motto: Service above self. The Rotary International's theme for this year is 'Serve to Change Lives'. The President Midha said providing the functional hand would definitely change the lives of the beneficiaries and their family members. The President saw various YouTube videos on this Prosthetic limb, and impressed by the good it could do, the Club decided to take up the Project. Rotary Club Poona Downtown has already executed such Projects elsewhere in India. The team from Poona including the Doctors will come to fit the hands. The President informed that the LN4 Prosthetic hands have already been fitted on about 60000 people in 80 countries.
Rotary Club Chandigarh Central is also running a dispensary in Village Kishangarh, an immunisation centre and TB Rehabilitation Centre in GMCH, Sector 32 apart from many other service projects on regular basis.