Rajdeep Kaur PCS assumes charge as ADC(G) Ferozepur 
Would accord top priority to provide clean, transparent and responsive administration to people along making Ferozepur corona free, says ADC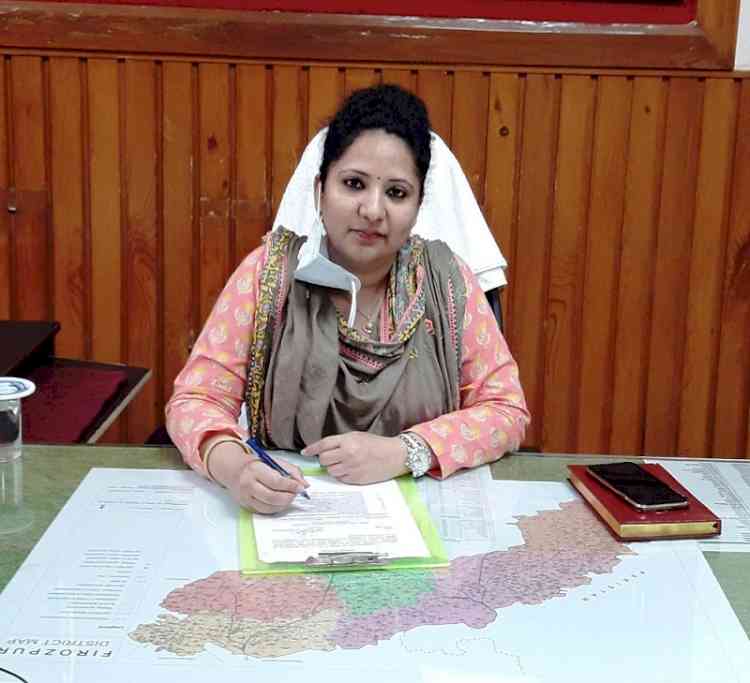 Newly appointed Additional Deputy Commissioner of Ferozepur Ms. Rajdeep Kaur.
Ferozepur: Newly appointed Additional Deputy Commissioner of Ferozepur Ms. Rajdeep Kaur today said that she would accord top priority to provide clean, transparent and responsive administration to the people along with making Ferozepur a Corona Virus free district.
 
After assuming the charge of her office, Ms. Rajdeep Kaur, a 2012 batch officer of the Punjab Civil Services, said that a transparent mechanism would be evolved for further streamlining the administrative functioning in the district. She said that no stone would be left unturned towards the implementation of the pro-people and development oriented policies of state government to benefit the masses.
 
The Additional Deputy Commissioner further said that she would carry forward the welfare programs and policies of the Punjab government to safeguard the interests of the weaker and underprivileged sections of the society adding that due focus would be laid on the revenue generation also besides completing various roles and assignments given by the worthy Deputy Commissioner. She said that the schemes like Ghar-Ghar Naukri, Pensions, DAPO, BUDDY and others would be implemented smoothly to ensure that the benefits of these schemes were percolated to the people.
 
Ms. Rajdeep Kaur further said that under 'Mission Fateh'- launched by Punjab Chief Minister Captain Amarinder Singh last month, a comprehensive roadmap would be prepared to ensure resurgence of district from the Covid 19 pandemic. She said that strenuous efforts would be made to give fillip to the socio-economic growth of the district thereby ensuring the prosperity of its people.
 
The Additional Deputy Commissioner said that already a slew of activities were going on to generate maximum awareness amongst people against Corona Virus which would be further accelerated.
 
Earlier, the Additional Deputy Commissioner had a meeting with the Deputy Commissioner Mr. Gurpal Singh Chahal where both the officers discussed the current situation in the district arising out of Corona Virus pandemic. Thereafter staff of ADC officer gave a rousing welcome to the newly Appointed Deputy Commissioner. 
 
Notably, she was serving as Deputy Secretary in the department of information and public relations before joining here as Additional Deputy Commissioner (General).