PWD minister Vijay Inder Singla announces construction of new road to commemorate sacrifice of Gurbinder Singh
Village school, library and stadium renamed after martyr's name: Vijay Inder Singla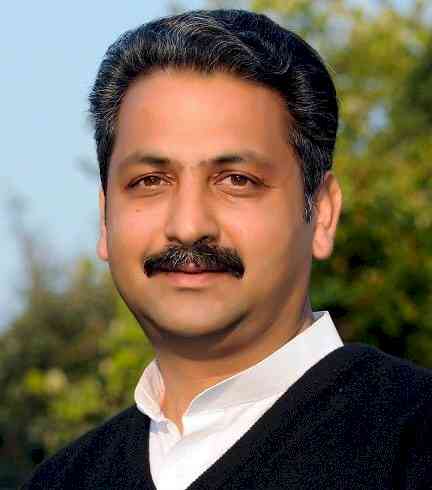 Punjab Public Works Minister Mr. Vijay Inder Singla.


Tolawal (Sangrur): On the Bhog ceremony of martyr Gurbinder Singh, Punjab Public Works Minister Mr. Vijay Inder Singla announced construction of a new road from Tolawal village to Jakhepal via martyr's home to commemorate his sacrifice for the nation. The cabinet minister informed that the estimate for the 3-km long road stretch has been prepared by the PWD and it has been sent for sanction from the government. He added that it would cost around Rs. 1 crore.
While paying tributes to Gurbinder Singh, the cabinet minister said that the government high school of the village has already been named as Shaheed Gurbinder Singh High School and school library has also been dedicated to the martyr. He added that the village has provided 2-acre land for the construction of a stadium which will also be named after Shaheed Gurbinder Singh.
The school education minister also met brave-heart niece of martyr who is student of class VIII and expressed her wish to be an army officer. Mr. Singla assured her that every possible support from the Punjab Government will be given to her to fulfill her dreams in the future. He added that Chief Minister Captain Amarinder Singh has already assured that the Punjab Government will always stand by the families of martyrs and financial help of Rs. 50 lakh has been announced as immediate relief. He added that the family has given their consent in the name of younger brother for appointment on government job which was announced by the state government and soon the appointment letter as per his qualification will be awarded to him.
On this occasion, Senior Leader Daman Thind Bajwa, Deputy Commissioner Ramvir, SSP Dr. Sandeep Garg, Chairman Rajinder Singh Raja, Congress leader Harmandev Singh Bajwa, SGPC President Gobind Singh Longwal, MLA Aman Arora, SDM Manjit Kaur and various other political, religious and social leaders were also present to pay tributes to martyr.