Punjabi folk song 'Ishq' sung by Ravinder Ranguwal released by Dr Riar
This folk song talks about "true love" and motivates us to connect to the Almighty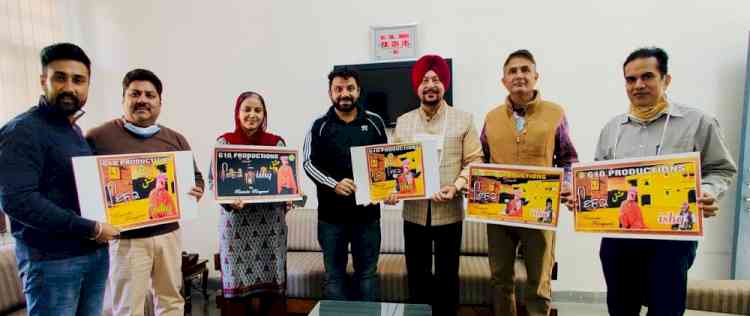 Ludhiana: Ravinder Ranguwal, a noted personality in the filed of Punjabi culture, has come out with a new folk song titled "Ishq".

The song was released at Punjab Agricultural University by the director of the communication department Dr Tejinder Singh Riar. 

Dr Riar said this folk song talks about "true love" and motivates us to connect to the Almighty. He also told that song has been written, directed and sung by Ravinder Ranguwal himself. 

This is really an appreciable task on the part of Ranguwal, added Dr Riar. 

On the occasion, Dr Apminderpal Singh Brar, Dr Simaranjit Kaur, Dr Anil Sharma, Dr Lovelish Garg, Ravinder Bhalluria of GADVASU were among those present.

Dr Brar said that there has been a trend of noisy music and lyrics these days and hoped that Ranguwal's song will give a soothing impact to the heart of music lovers. He said that the lyrics and music of the newly launched song will prove a milestone for the budding singers.

Speaking on the occasion, Dr Anil Sharma said founder of Punjab Cultural Society Ravinder Ranguwal has created a benchmark in the field of art and culture all around the world. He added Ranguwal has worked a lot for promoting the folk dance and culture of Punjab. Ranguwal along with many renowned artists has represented India in the field of folk dances in more than 31 Countries. He called Ranguwal as the biggest promoter of art and culture and this song is another step towards the promotion of the culture.

Ravinder Ranguwal said he himself is astonished that he wrote this song. Even though he has written a book Virasat de Rang (Colors of Heritage) which has been formally released, still he counts himself far behind many writers. "I got an internal strength and feel of relaxation while writing, singing, composing music and directing this song", he revealed. 

Further, Ranguwal said that the lines of the song, "ishq nu pauna hove, rab nu mnauna painda, rab nu je pauna hove taan Ishq jagauna painda' is a folk song which gives a feeling of relaxation to the listeners. A few days back yet another song of Ravinder Ranguwal was nominated for PTC Punjabi Music award in category "music with a message".

It may be mentioned here that the song has been released worldwide by G10 Productions.