Punjab traders unhappy with Amarinder government
Warn him to teach a lesson in next assembly elections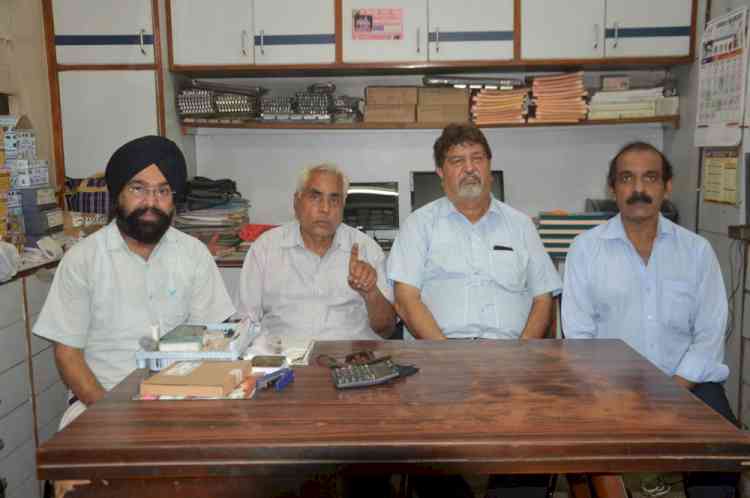 Punjab Pradesh Beopar Mandal (PPBM) leaders addressing press conference at Mata Rani Chowk, Ludhiana.
Ludhiana: Punjab Pradesh Beopar Mandal (PPBM) held a press conference at Mata Rani Chowk, which was addressed by the mandal's state general secretary Sunil Mehra, District President Arvinder Singh Makkar, District Chairman Pawan Lahar and District General Secretary Surinder Agarwal.
Addressing the media persons, they regretted that the state government is not giving any relief package to boost business in this time of pandemic. They said the exodus of industry and trade has begun from Punjab due to the anti-trade policies of the government. They said the lockdown/curfew during the pandemic has rendered a great financial loss to both the trade and industry of the state. 
They said the state government is still imposing curfew after 6pm as such the shopkeepers cannot open their shops after 6pm. Besides, there is a lockdown on Sundays whereas Ludhiana has a big wholesale market which is open on Sundays and traders from outside the city used to come here for the trader purposes on Sundays. However, the Sundays' lockdowns have spoiled the Sunday business totally. 
They pointed out that the recovery rate of corona patients is 95.83 percent in Ludhiana. Still, there exists a lockdown on Sundays. They warned that if this Sunday lockdown is not withdrawn and timing of shops is not enhanced till 8pm within the next three days then they will be forced to start a movement in Punjab starting from Ludhiana against the Captain Amarinder Singh government.
They said the Punjab CM Capt Amarinder Singh has even refused to meet with traders, therefore, traders will give him a befitting reply in the next assembly elections scheduled to take place next year. They said the misdeeds of the Amarinder government will be exposed to the public in the coming assembly elections.