Punjab Rice Millers' Association threatens to move HC against FCI
Will take to streets if FCI doesn't adopt transparency in its functioning: Punjab Rice Millers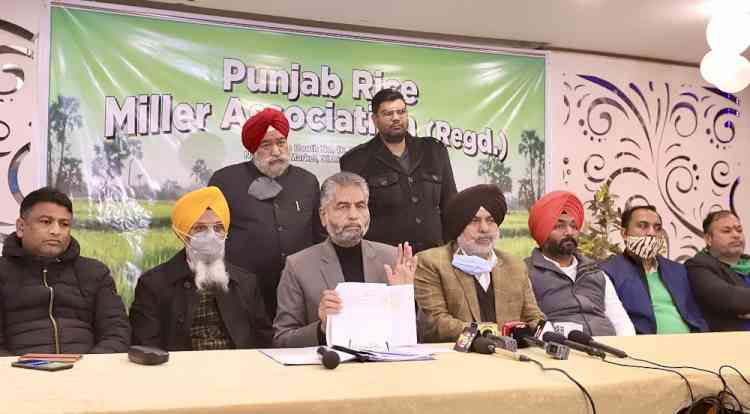 Tarsem Saini, President, Punjab Rice Millers' Association (PRMA) flanked by Gurdeep Singh Cheema, Gen Secy, PRMA (right) and Lakhveer Singh, Vice President, PRMA addressing a press conference to expose the corrupt and inefficient practices adopted by Food Corporation of India (FCI) at Chandigarh Press Club today.


Chandigarh, January 25, 2022: Fed up with coercive measures of Food Corporation of India (FCI) over the quality testing mechanism of grains, Punjab Rice Millers' Association (PRMA) on Tuesday threatened to move high court against India's largest public sector food grain procurement agency, if millers are continued to be harassed on non-meritorious grounds.
    
"The quality assessment mechanism adopted by FCI for food grain is flawed. It is full of loopholes. For the past 4-5 years, we have been asking for computerized laboratories but in vain. In order to sustain corruption in FCI, higher authorities in the Punjab region are not ready to bring transparency in the FCI's functioning," said Tarsem Saini, President, PRMA, here today while addressing a press conference at Chandigarh Press Club, Sector 27.
 
Saini said further, "Instead of streamlining testing mechanisms, FCI officials harass us by issuing verbal orders of 'stock rejection'. All testing is still done in manual laboratories, where conflicting results come. If the FCI management does not take corrective measures in this regard immediately and makes its functioning transparent, PRMA will be constrained to move to the high court and will even take to streets if the need arises."
 
PRMA office bearers expressed dismay that a few days ago, on Jan 14, 2022 -  the 58th  foundation day of FCI a perception was given by Union Minister of Food, Civil Supplies and Consumer Affairs Piyush Goyal through a press release about streamlining the functioning of FCI as a transparent and corruption-free organization. But on ground the situation is not conducive at all.
 
Giving an example of the unethical way the FCI functions, Gurdeep Singh Cheema, General Secretary, PRMA, said that on December 30, 2021, some officials of FCI from its Punjab region office, Chandigarh, visited Rupnagar depot of FCI. Some trucks carrying rice stocks were returned on their verbal order.
 
"However, when the stocks were checked by depot officials, these were found to be within the acceptance limit but these were rejected on the verbal order of the inspecting team of FCI, Chandigarh. PRMA office bearers present on the spot as per the provision of FCI filed an appeal. Samples from Rupnagar were sealed and sent for analysis. The analysis results of the samples were conducted by the District Laboratory, Chandigarh, Regional Laboratory and CGAL Laboratory, New Delhi, which did not match with each other. It was so surprising that variation from 10 per cent to 200 per cent in certain refractions was reported." Added Cheema.
 
The rice millers also presented the reports in front of the media. Punjab's rice millers demanded a CBI or vigilance investigation into 'flawed' quality testing systems of FCI during the press meet.
 
 
Sanjeev Kumar, vice president, PRMA, said that the Union Food Ministry should initiate suitable disciplinary action against the higher ups of FCI, who are turning a blind eye for conflicting analysis results of the samples of same stock from different laboratories. "It is not ludicrous but stage managed by some officials of FCI who have not been transferred for years. They are obstacles in the path of streamlining the functioning of FCI," he said.
 
The rice millers who had come from different areas of Punjab informed that the 'Rupnagar case' was not the only one but many such incidents have happened in different parts of Punjab and will keep happening if stringent measures are not taken to reign in the unethical officials of FCI's regional office.  They said that these issues have been discussed with the Union Food Ministry and the FCI management many times but this did not yield any fruitful results.