Punjab Pradesh Beopar Mandal questions working style of Municipal Corporation Ludhiana 
Says the employees of the Corporation are bent on playing with the lives of the people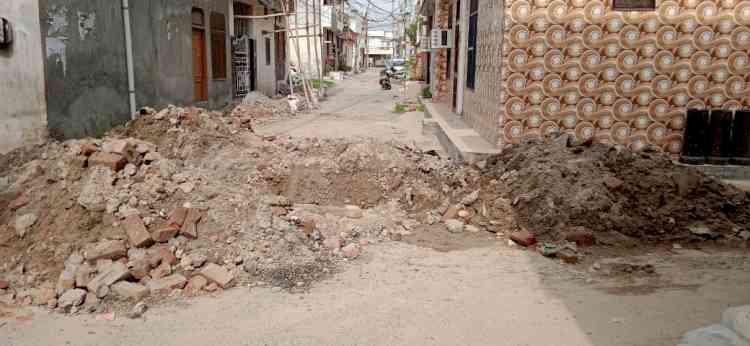 Ludhiana: Punjab Pradesh Beopar Mandal General Secretary Sunil Mehra has questioned the working style of Municipal Corporation Ludhiana and said that the employees of the Corporation are bent on playing with the lives of the people. The pits are dug in the streets and left like this for many days due to which accidents are happening.
Giving an example, he said that the residents of Street No. 5, Durgapuri, Haibowal, Ludhiana are facing trouble for the last four days as the employees of the Municipal Corporation have dug the intersection of the street deep and left it like that. Dirty water is also accumulating in this deep pit, due to which there is a danger of spreading disease during the epidemic. Due to the digging of deep pit, the chauraha has been completely closed, due to which the commuters are facing a lot of trouble. There have also been some accidents during the night due to which two-wheeler riders have been injured.
Mehra said that the people of the area have also raised this matter with the concerned municipal councilor and MLA. But, till now no hearing has taken place. May be they are waiting for some big accident, he said. According to the people of the locality, this pit was dug to install `jali' to drain the rain water. However, the rain water drains on its own after some time. People had also requested the councilor that there was no need to install `jali' here. Anyway, there is no use of putting `jali' now because roads are to be made by putting premix again in this locality, only after that the correct level will be known.
Mehra said that many more such scenes can be seen in Durgapuri. He warned the municipal councilor and the mayor that if the road is not properly repaired by filling this pit within the next two days, then they will gherao the houses of both of them. He said that apart from providing facilities to the common citizens, it is the responsibility of the Municipal Corporation to protect the lives of the people. He said that if anyone is physically harmed due to an accident at this place, then it will be the responsibility of the councilor and the mayor as they are the representatives elected by the people.
He also demanded from the concerned officers that appropriate steps should be taken to prevent accidents on the road in front of Dandi Swami Temple. He also demanded that there are potholes lying at various places on Ferozepur road which are causing accidents, they should also be filled at the earliest. Otherwise, they will be forced to take some strict action. /(June 12, 2021)