Punjab Minister Bharat Bhushan Ashu launches third phase of Punjab Smart Connect Scheme in Ludhiana
16553 Class XII students of Ludhiana Government Schools get smartphones under this scheme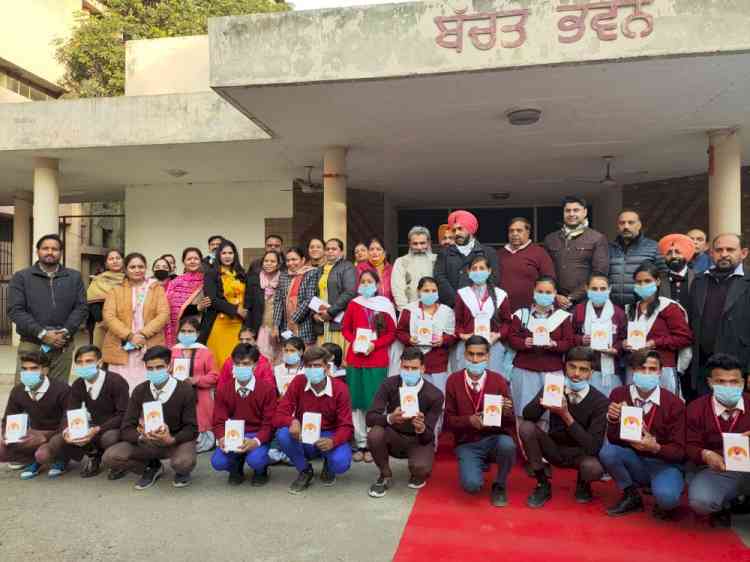 Ludhiana: Punjab Food, Civil Supplies & Consumer Affairs Minister Bharat Bhushan Ashu on Thursday, launched the third and final phase of "Punjab Smart Connect Scheme" in district Ludhiana by handing over smartphones to Class XII students of various Government Schools in the district.
The Minister distributed the smartphones to students simultaneously via video conference with the Chief Minister Captain Amarinder Singh, who launched the last phase of the scheme in Chandigarh. During the launching, MLA Ludhiana (Central) Surinder Kumar Dawar, MLA East Sanjay Talwar, Punjab Medium Industry Development Board Chairman Amarjit Singh Tikka, Punjab Youth Development Board Chairperson Sukhwinder Singh Bindra, Ludhiana Improvement Trust Chairman Raman Balasubramaniam, Deputy Commissioner (DC) Varinder Kumar Sharma, ADC Development Sandeep Kumar, Senior Vice Chairman Punjab Large Industries Development Board Ramesh Joshi, MC Councillor Sunny Bhalla among other prominent persons were present. 
While addressing the gathering, Cabinet Minister Bharat Bhushan Ashu firstly conveyed his warm wishes for a happy, peaceful and prosperous New Year 2021 to all the residents of the district.
He said that with distribution of another 4944 smartphones in the last phase, a total of 16553 students of class XII studying in Government Senior Secondary Schools of district Ludhiana would be benefited under this scheme.
He said that the Smartphones would provide global connectivity and empower the poor youth who could not afford them. He said that in the present pandemic situation, these phones had assumed a bigger importance as they had become a necessity for education continuity. It was the money of the people of Punjab which the Punjab government was spending on advancement of the youth, he said.
Bharat Bhushan Ashu said that he wanted Punjab's students to be abreast with the latest technology which they can use effectively for their education, which leverages technology in a big way today. Gone are the days of chalks and boards, he said, adding that the Government schools, which had seen a major transformation over the past couple of years, needed to be supported through technological initiatives by the state government.
Students expressed gratitude to the Punjab Chief Minister Captain Amarinder Singh for the smartphones citing that they were unable to afford smartphones due to financial constraints at home but this initiative of the government has given a new impetus to their desire to get an education. 
Meanwhile, the Lava company smartphones equipped with latest specifications including 2GB RAM with 1.5 GHz processor, 5.45 inches display size, 3000 mAh battery, eight-megapixel rear and five-megapixel front cameras with capacitive touch screen beside the Wi-Fi, Bluetooth, GPS, headphone jack, USB enabled OS-Android 9.0 phone will be compiled with all types of networks such as 2G, 3G,4G/LTE, VoLTE having ROM (Memory) – 16 GB, which is expandable to 128 GB.