Punjab Government's bonanza to Ludhiana on World Environment Day
CETP having 50 MLD Capacity inaugurated in Ludhiana to treat water of 102 dyeing units at Tajpur Road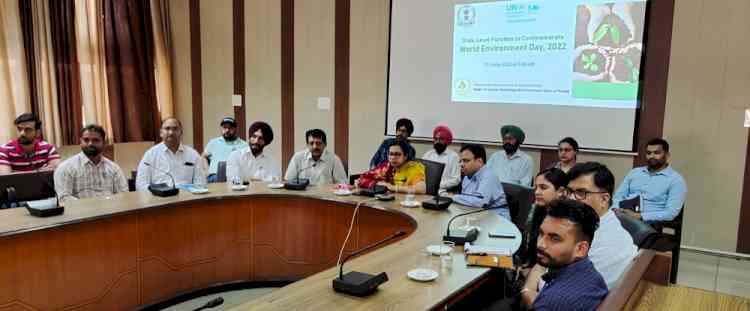 Ludhiana, June 5, 2022: On the occasion of world environment day, Punjab Government has given a gift to Ludhiana district with Secretary Science, Technology & Environment Rahul Tiwari today virtually inaugurating a common effluent treatment plant (CETP) having capacity of 50 MLD at local Tajpur Road. This CETP would provide major relief to over 120 units of hosiery and dyeing industries.
 
Chairing the virtual inauguration event here at the administrative complex, Rahul Tiwari said that Ludhiana is an economic capital of the state and also known as Manchester of Punjab. He further mentioned that hosiery and dyeing industries are major components of Ludhiana as cluster for both of these industries is located at Tajpur road with 102 units representing these segments.
 
The Secretary also stated that these unites had separate treatment plants but due to lack of manpower they were not able to perform efficaciously, whereby Punjab Pollution Control Board (PPCB) led these industries to set up a Common Effluent Treatment Plant (CETP) with a capacity of 50 MLD through subsidy from the state government.
Pointing out further Deputy Commissioner Ludhiana Surbhi Malik said that after commencement of this plant, the waste water of 102 dyeing units to be treated here adding that the plant is based on SBR technique and fulfills all the requisite parameters. She also said that online water meters would also be installed to check the quantity of water discharged by these units.
Prominent amongst others present on the occasion included Additional Deputy Commissioner (Development) Amit Panchal, Chief Engineer PPCB Gulshan Rai, and Superintending Engineer Gurbaksh Singh.