Punjab Government committed for welfare of farmers of state: Bindra
Says the state government stands shoulder to shoulder in the farmers' struggle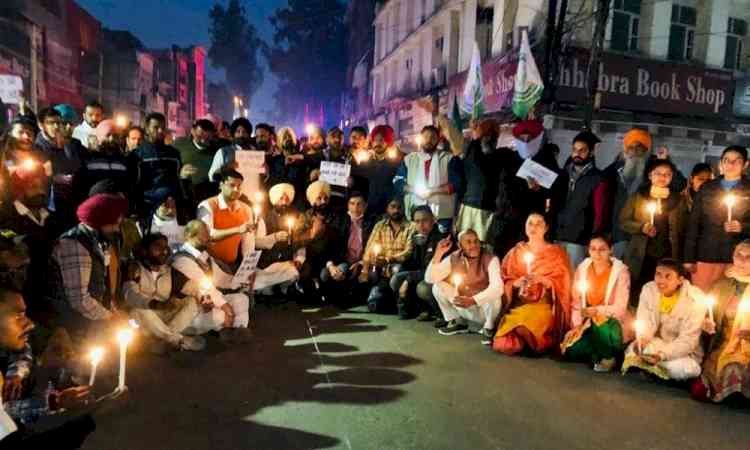 Ludhiana: Farmers are the backbone of the State and we stand shoulder to shoulder in this farmers' struggle. These views were expressed by Sukhwinder Singh Bindra, Chairperson, Punjab Youth Development Board. 
On this occasion, Simran Pannu, Dr. Brindar Pannu (Preet Hospital), Bunny Dhillon (Ghungrana), Navi Johal, Nitte Lotte, Rohit Dhand, Amardeep Singh Ruby, Harpreet Dhillon, Harpreet Sandhu, Gurwinder Jolly, Lali Sharma, Gursharan Sandhu, Davinder Gill, Guri Grewal, Tanveer Rania, Gurpal Dhaliwal, Amrit Dhillon, Gurpreet Dhillon, Rajan Jawanda, Sukhpal Sandhu, Lucky Verma, Tejeshwar Singh, Dax Joshi, Harmeet Butter, Goga Jandiali, Mandeep Dhaliwal, Sarwan Singh, Ajitpal Sandhu, Vicky Dhandari, Harpal Aujla were also present. 
Bindra said that this struggle is not only of the farmers of Punjab, it had also become an issue of Punjabis and the farmers of the country. In this peaceful peasant struggle against the three black agriculture laws passed by the Center, the Captain Government of the State has fully sided with the peasants. He said that the prosperity and progress of a State depended on the economic prosperity of the farmers of that State. S. Bindra said that a farmer who feeds the whole country should solve his problems on priority basis.
He said that Punjab Youth Development Board under the leadership of Chief Minister Capt Amarinder Singh is committed for the Welfare of farmers and the Youth of the State.