Punjab Bachao Samyukt Morcha to struggle against policies of Modi government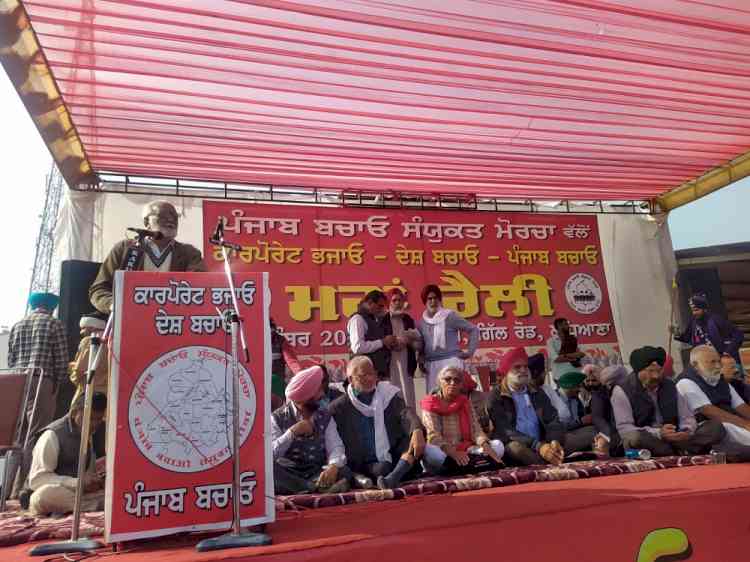 Ludhiana, November 28, 2021: Hard, concerted and joint struggles by the working people against the policies of the Modi government is the only way to defeat them and build a society based on justice and equity. This was the call given at a rally organised by the Punjab Bachao Samyukt Morcha held at Dana Mandi, Gill Road, Ludhiana today.
Workers representing different trade unions and independent federations gathered in thousands and took pledge to continue to struggle for the above themes.
 
The speakers cautioned that people's woes have to be ended through polices of inclusive growth and by rejecting the corporate driven economy as it is today. It is the duty of the toiling masses to safe guard our constitution, its various pillars and strengthening federalism as envisioned by our freedom fighter.
 
Speakers said today as a result of corporate drive economy our basic needs like food, healthcare and quality education have become out of reach of the common people because of blatant privitisation under the neo-liberal system of development under the diktats of the World Trade Organisation (WTO) and international monopoly capital and global financial institutions.
 
Adding, they said these policies also hit small and medium enterprises and business. To enforce upon these policies government is using police force by labelling those who challenges their policies as anti-national. Minorities are being supressed. Crime against women is ever increasing. The rulers are out to build a monolithic society by completely negating the diversity of the country.
 
They said in our state Punjab mafias are ruling the roost. Education is in shambles. Healthcare is most expensive in our state. Unemployment is rampant. Those asking for their dues and jobs have to face lathis of the security forces.
 
The farmers' struggle has shown us that no power structure howsoever ruthless it may be is not invincible. Prominent among those who addressed include Comrades Bant Brar, Mangat Ram Pasla, Gurmeet Singh Bakhtpur, Kiranjit Singh Sekhon, Balbir Singh Rajewal a Prominent Leader of the Samyukt Kisan Morcha etc.