Punjab and Australia: Forging new ties
The High Commissioner of Australia to India, Barry O'Farrell AO kicked off his maiden visit to Punjab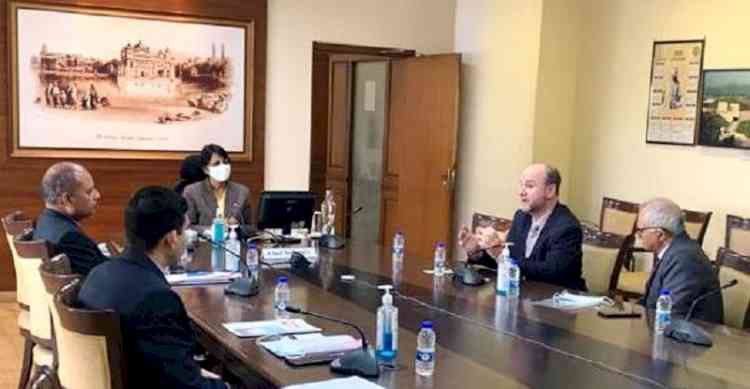 Chandigarh: The High Commissioner of Australia to India, Mr. Barry O'Farrell AO kicked off his maiden visit to Punjab with a meeting with Captain Amarinder Singh, Chief Minister Punjab on 20th January, 2021. The two leaders discussed ways to revitalize economies post COVID-19, enhance long-term economic cooperation between Punjab and Australia in agriculture, water, education, and strengthen trade & diaspora ties between the two regions.
Today, Ms. Vini Mahajan, the Chief Secretary Punjab had a strategic dialogue with the High Commissioner of Australia to India.
Ms. Vini Mahajan highlighted the Australia-India education partnership and offered Mohali as the ideal destination for Australian Universities interested in setting up Indian campuses. It was proposed that R&D collaborations in agriculture may be expanded. During the meeting, the Government delegation also presented the potential for collaboration in agri commodities like kinnow, pear, tomatoes, potato seeds etc. State Government also requested Australian Government to provide agri-export certification relaxations similar to those provided by USA & Canada. Australian companies were also invited to invest in Punjab which offers a very investor-friendly ecosystem. 
Mr. Barry O'Farrell AO expressed the interest of Australian Pension funds in making long-term investments in the Indian infrastructure sector. The High Commissioner also reiterated the interest of Australian universities in collaborating further with their Punjabi counterparts and extended his government's cooperation to the State in the fields of modern practices in agriculture and allied services, education, and industries.
The State Government delegation comprised of Mr. Anirudh Tewari, ACS Development, Mr. Alok Shekhar, Principal Secretary Department of Investment Promotion and Industries & Commerce, Mr. Rajat Agarwal, CEO, Invest Punjab, and Mr. Manjit Brar, MD, PAIC. The Australian High Commissioner was accompanied by Ms. Lauren Dancer, Second Secretary, Economic & Trade, and Mr. Pragya Seth, Senior Policy Officer, Economic & Trade.  
 
During his visit, the Australian High Commissioner also interacted with Punjab industry titans like Mr. Rajendra Gupta, Trident Group, visited industries like Bansal Spinning Mills, Sahnewal, where Australia's merino wool is processed, and saw the "Happy Seeder" (a machine that addresses stubble burning) which has been developed jointly by Punjab Agricultural University and the Australian Centre for International Agricultural Research. 
 
For Punjab Government, this visit was an excellent opportunity to further bilateral cooperation with Australia across sectors such as skill development, education, agri & food processing, infrastructure, and trade.