PUCA celebrates its 6th Foundation Day
Chairman, PSBTE and IT graced the occasion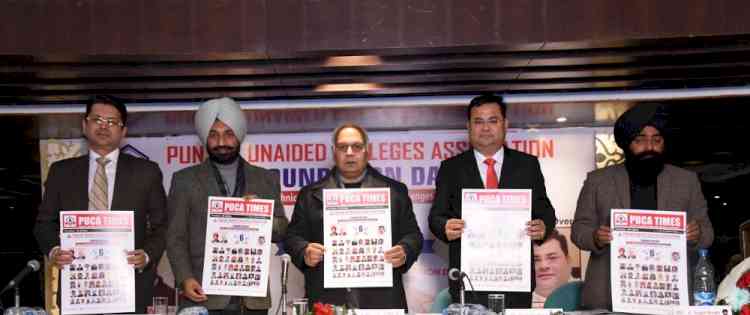 Ludhiana: Punjab Unaided Colleges Association (PUCA) celebrated its 6th Foundation Day. On this occasion Sh. Mohinder Singh KP, Hon'ble Chairman, Punjab State Board of Technical Education & Industrial Training was the chief guest. Dr. Anshu Kataria, President, PUCA & Chairman, Aryans Group of Colleges presided over the function on theme "Strengthening Technical Education of Punjab: Challenges & Opportunities". On this occasion Mr. Amit Sharma, Senior Vice President, PUCA; S. Satnam S. Sandhu, Chief Patron, Joint Association of Colleges (JAC) & S. Jagjit Singh, President, JAC were also present on the dice.
 
The programme commenced with the floral welcome of chief guest, formal Lamp lighting & Cake Cutting ceremony. On this occasion the chief guest along with distinguished guest released 5th edition of PUCA's Newsletter "PUCA Times". 
 
While addressing all the PUCA members, Hon'ble Chairman, Sh Mohinder Singh KP said that I am very happy to know that today PUCA is entering its 6th year after completing 5 years. I would like to take this opportunity to congratulate PUCA team and Dr. Anshu Kataria, President, PUCA. I understand that PUCA is a great combination of a young and old educationist also.        
                                           
He further said that I keep reading in the newspapers how PUCA is working for various issues of colleges, whether it is Post-Matric Scholarships, extending seats and admission dates from AICTE for colleges or from the Ministry of Finance in the Central Government as in every case there is a need for financial assistance.
 
S. Satnam S. Sandhu while addressing said that PUCA is very important part of JAC & is one of the most dynamic associations of Punjab which is becoming stronger day by day under the leadership of Dr. Anshu Kataria.
 
 
S. Jagjit Singh congratulated PUCA for its efforts for associating around 20 states of India with Punjab. He appreciated efforts of PUCA in which PUCA got admission date extended from AICTE due to farmers protest. 
 
Dr. kataria thanked all the members for their unconditional support to PUCA in the last 5 years. He also thanked JAC for giving patronage to PUCA in previous years.
 
On this occasion Sh. Rashpal Singh Dhaliwal, CGC, Landran/Janjheri; S. Gurkirat Singh, Gulzar Group, Ludhiana; Sh. Ashok Garg & Sh. Ashwani Garg, SVIET, Banur; Sh. Raghav Mahajan, Golden Group, Gurdaspur; Sh. Rajesh Garg, Bharat Group, Mansa; Sh. Rajiv Gulati, LGC, Ludhiana; Sh. Nalini Chopra, Kay Jay Group, Patiala; Dr. DJ Singh, Vidya Jyoti Group, Lalru; Dr. Sahil Mittal, Meera Group, Abohar; sh. Vibhav Mittal, Dolphin Group, Chunni kalan were present. S. Manjit Singh, Patron, JAC & S. Rajinder Singh Dhanoa, Secretary, JAC were also present.