PU VC second term commences today
PU VC shared that his vision for the University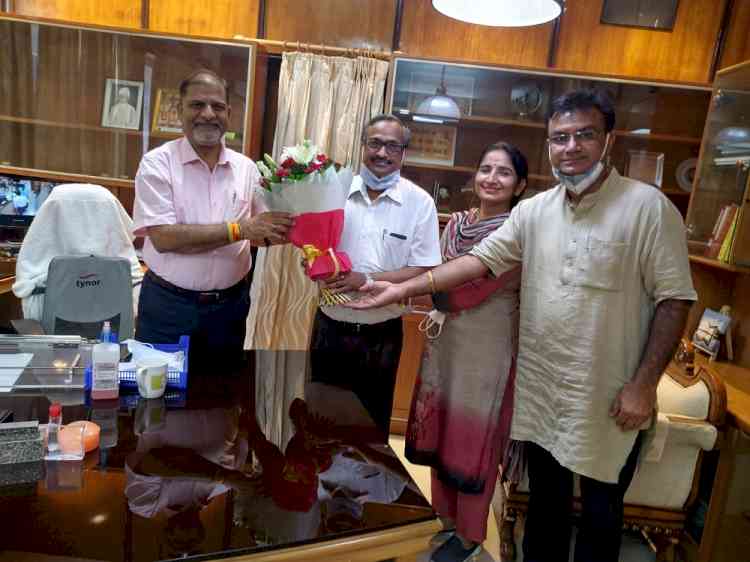 Prof. S.K.Tomar, Prof. Meena Sharma DSW(W), Assoc. DSW Prof. Ashok wishing PU VC.
Chandigarh: The second term for a period of three years as Vice Chancellor of Panjab University, Chandigarh for Prof. Raj Kumar commenced today, the extension of which was communicated in the month of June, 2021 by the office of Chancellor, PU.
PU VC shared that his vision for the University is to give globalization, to maintain as a leading institution that creates and spreads quality of knowledge, innovative ideas, build sound perceptions and latest methodologies; to provide healthy research practices, quality education, organizing outreach programs developing intellectual capacity among the students and preparing them to become a resource/assets for the country.
He further added that 21st-century education is about teaching students, how to adapt to a fast-changing world and handle unpredictability. Learning will be more focused on experiential learning, teachers should develop among students innovative ideas, creative and critical thinking, decision-making abilities, ability to start their own ideas/ start-ups/ innovations.  The attention will also be given to students to develop better communication skills, the skill of collaboration with other agencies/ stockholders, working in a team,etc. The students should be equipped with basic theoretical knowledge of the subject with applied (practical field) knowledge.
Under his tenure, growth of Panjab University has taken a quantum leap in the last about 3-years. There are many first time initiatives which include integration of Seven Verticals SAIF/CIL Lab, Design Innovation Centre, CIIPP, Skill Development, Bio-Nest Incubator, Institute Innovation Council, DST Centre for Policy Research, for their efficient and coordinated working.
University received a grant of Rs. 50 crore from MHRD Rashtriya Uchchatar Shiksha Abhiyan (RUSA) under Component 10 and planned and established Incubation Centre known as Discovery Block in the University Campus. PU is ranked at 2nd in the Atal Ranking of Institutions on Innovation Achievements (ARIIA) amongst Indian Universities of the country. It has signed 37 MoUs with National and International institutions/ Industry.
Also, the University library provided learning resources through RemoteXs at home for the faculty, research scholars and students. University faculty with motivation has organized 900+ Webinars/ Seminars/ Workshops/ Conferences in last two years along with 500+ online events during COVID pandemic. 27 scientists from various disciplines out of 2313 Indian Scientists have been included in the elite list of world top two percent scientists by Stanford University. 
PU won the prestigious Maulana Abul Kalam Azad (MAKA) Trophy for all-round performance in sports among Indian Universities continuously for two years (2019 & 2020). It was awarded by the President of India on National Sports Day. PU also got First position in 1st Khelo India University Games organized by the Ministry of Youth Affairs & Sports during Feb-March 2020. University introduced a Six-month Certificate Course in Elementary Sanskrit and Bhagavad-Gita, Ancient Indian Wisdom. It is among top 05 universities in India to upload data of 31000+ students on NAD (National Academic Depository) as mandated by MHRD, GoI.
He has been instrumental in getting 271 Molekule Air purifier units for SAIF/CIL, Panjab University and have been distributed to the hospitals of the region.