PU VC releases book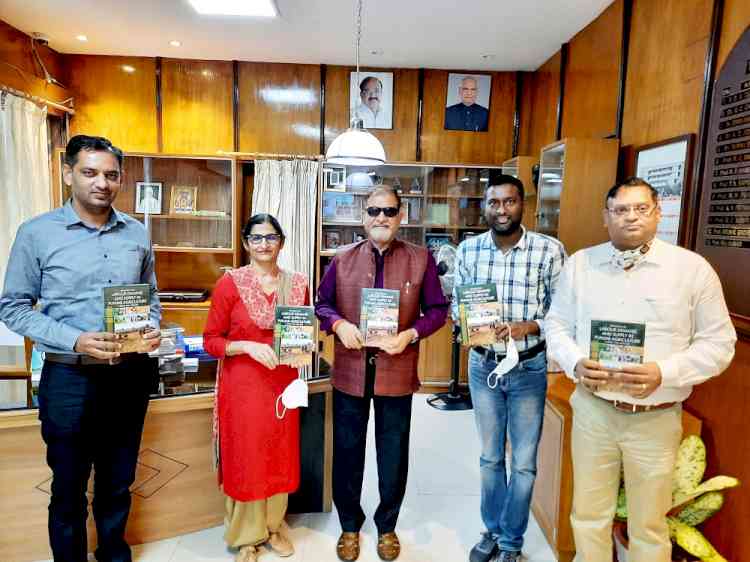 Chandigarh, October 12, 2021: A book titled "Dynamics of Labour Demand and Supply in Punjab Agriculture" authored by Dr. Sucha Singh, Assistant Professor, and Coordinator, Department of Geography, USOL was released today by Prof. Raj Kumar, Vice Chancellor, Panjab University, in his office in the presence of Prof. Dhian Kaur; Prof. Gaurav Kalotra, Chairperson, Geography, and Dr. Gaurav Gaur, Chairperson, Centre for Social Work.
PU VC extended his facilitations to Dr. Sucha Singh for bringing out an excellent piece of research work on the changing labour absorption scenario in Punjab agriculture.
The author, in his book highlights that agrarian labour is an important theme of study in social sciences which has both theoretical relevance and applied significance. Despite the mechanization of various farm operations, labour remains a crucial factor in agricultural production in the green revolution states like Punjab. The commercial food grain system of the state is under transformation. Therefore, the book analyzes the dynamics of labour absorption under changing scenario in Punjab, where a major share of agricultural workforce has shifted to non-agricultural sectors since 1991. The book gives an extensive preview of the impact of mechanized intensive commercial grain farming on the agricultural labour absorption in Punjab, particularly after the economic liberalization of 1990s. The book has attempted to understand the various facets of change in different types of agricultural labour at the tehsil and district level in the state. It majorly focuses on the analysis and interpretation of primary data pertaining to crop-wise, farm size-wise and agro-climatic region-wise absorption of different types of labour in various operations of crop farming and allied agricultural activities in Punjab. It also provides information for formulating an area-specific policy on absorbing displaced agricultural labour in the state. Geographers, Economists and Sociologists concerned with the studies of agrarian labour will find this book useful and interesting.