PU Enactus holds workshop for underprivileged women
Women were taught about innovative techniques and designs for stitching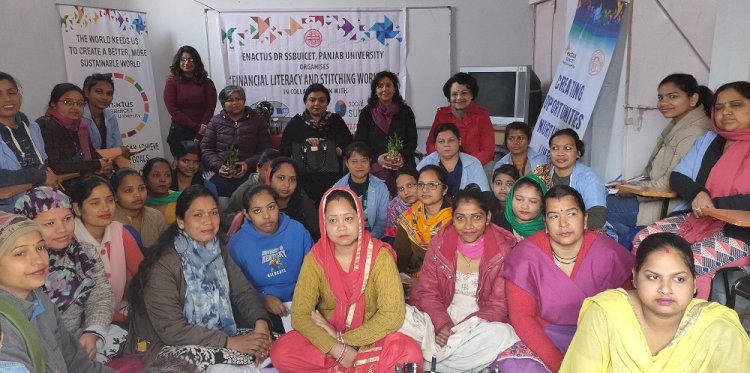 Chandigarh: Enactus team of Panjab University led by faculty advisor Prof. Seema Kapoor, conducted a financial literacy and stitching workshop for the ladies of Janta Colony, Chandigarh in collaboration with Developing Indigenous Resources-India, headed by Dr. Asha Katoch and Social Substance group of Panjab University. Dr. Anu H. Gupta, University Institute of Fashion Technology, P.U. taught these underprivileged ladies some innovative techniques and designs for stitching during the workshop, which will help them get more orders and thus more income. 
Dr. Monika Aggarwal from University Institute of Applied Management Sciences, P.U. enlightened the ladies with budgeting and saving strategies. She discussed numerous schemes which would help them to use their finances wisely, such as investment and insurance policies. Around 40 women attended the workshop. Also present were Andrea Sadowki and Michaela Reist, DIR-I international development interns from the University of the Fraser Valley. 
The team aims to eradicate the use of plastic bags by bringing cloth bags into use and also empowering underprivileged, semi-skilled women under project Uday. The team recognized various environmental problems caused by plastic habit, such as: ocean pollution, impact on biodiversity and affect on human health. "Each and every step of this project has been taken to keep the environment and aquatic life safe", said Harleen Singh, President, Enactus team. The team members came up with the idea of making cloth bags from the discarded cloth from textile mills, boutiques and households. A community of women who were unemployed yet semi-skilled in stitching was targeted in Janta Colony, Chandigarh. These ladies were housewives and were trained to sew their own clothes and bags to earn money to support themselves and their families.
Dr. Arun Bansal from Social Substance group of P.U. suggested that such workshops held by the Enactus team are a good initiative, which will enhance the skills of these ladies and add value to their work.
Prof. Kapoor told that Enactus team is working diligently and consciously to conserve the environment with its projects. She also conveyed that Enactus team, along with DIR-I is putting up stalls at various events held at Panjab University like Basant Mela, Rose Festival and Organic Market, to market cloth bags made by these slum women. 
Dr. Rohit Sharma, Project Leader, BioNEST-Panjab University has placed orders for these kind of cloth bags to be used during Punjab Start-up Fest on 9th March 2020. Prof. Rohit also held a counseling session for Enactus students so that they can have their own start-ups. 
The Enactus team members are leaving no stones unturned to uplift the conditions of these underprivileged women by getting orders for cloth bags from various markets and helping them in a sustainable source of income, conveyed Prof. Emanual Nahar, Dean Student Welfare. 
Dr. Katoch conveyed that the DIR-India team is very grateful to Enactus for collaborating with them to uplift the socio-economic status of these women.