PSIEC chairman announced Rs 40 crore for construction of focal point roads
He made this announcement at meeting with industrialists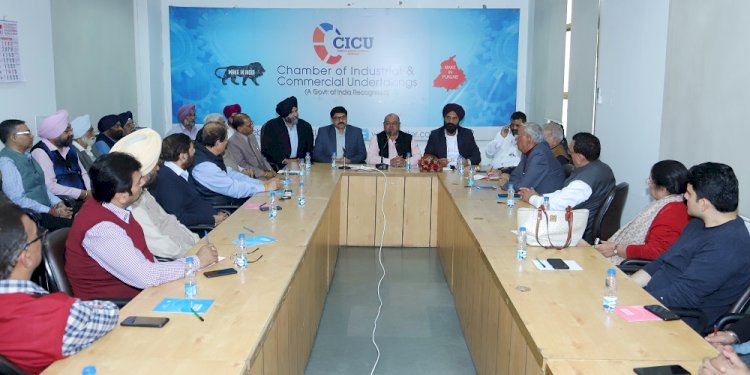 Ludhiana: Today, a meeting was called to discuss about construction of Focal Point Roads i.e. Phase-4A, 5, 6, 7, 8. The meeting was chaired by Gurpreet Gogi Chairman PSIEC. President and Office-bearers of industrial associations attended the meeting and discuss the matter with chairman.
Upkar Singh Ahuja, President and Pankaj Sharma, General Secretary, Chamber of Industrial and Commercial Undertakings (CICU) appreciated the work for upgrading of focal point roads and infrastructure. He also thanked Sunder Sham Arora, Minister for Industry and Commerce, Punjab for his efforts for the Ludhiana Industry.
The meeting was attend by more than 50 prominent Industrialists K.K Seth, Gurmeet Kular President FICO, Suraj Bassi, S.K Lakra, Ajit Lakra, Rajnish Ahuja, T.R Mishra, Surinder Mohindru, Honey Sethi, J.S Bhogal, S. B Singh, Ghansham Lotey, President LIFA,  O.P Bassi, president Phase-VIII Focal Point, Sanjay Dhiman, Ishwar Singh, president Phase-7 Focal Point Ram Lubhaya and other senior industrialists.
The following points were discussed in this meeting:
•    Total 67 Crore has been sanctioned for Focal Points Roads i.e. Phase-4A, 5, 6, 7, 8, and 40 Crore will be spend in this financial year and 27 crore within the next financial year for roads.
•    The concrete roads will be constructed in Focal Point.
•    Govt. of Punjab will provide all the funds for development of the Focal Point.
•    3 Gates for beautification will also be constructed in Focal Point.
•    The work of the Focal Point Roads will be start within a week.