Providing skill development education to students 
7 BVoc and 3 MVoc courses running successfully in KMV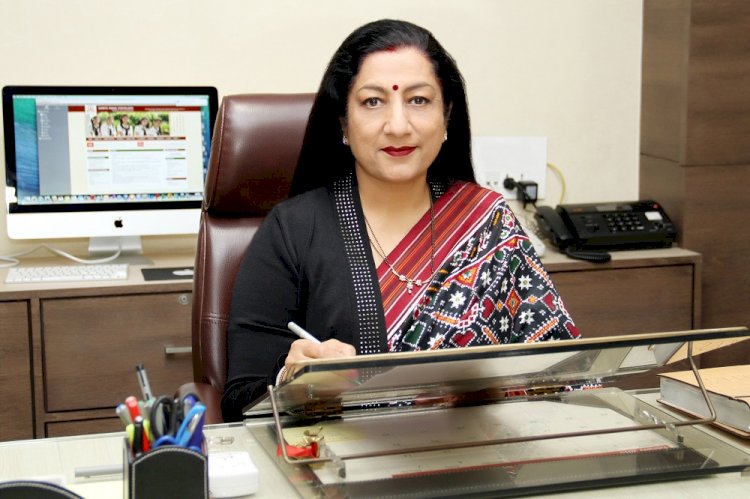 Principal Prof. (Dr.) Atima Sharma Dwivedi.
Jalandhar: DDU Kaushal Kendra awarded by the Government of India to KMV (Kanya Maha Vidyalaya) has been running various B.Voc. & M.Voc. courses for the motive of providing skill development education to the students. KMV is running Skill Development courses since 2015 under the aegis of DDU Kaushal Kendra, the first Kaushal Kendra in the region and under Guru Nanak Dev University, Amritsar. 
Throwing more light on it, Principal Prof. (Dr.) Atima Sharma Dwivedi averred that there are many lucrative career options in Skill Development Courses, as after the successful completion of the programme, the students will be able to perform multiple jobs in their respective fields. She also informed that KMV is affiliated with Retailer Association's Skill Council of India, Mumbai for certification and placement of the students. It is a great pride for KMV as all the students of B.Voc in Retail Management have cleared all the levels, i.e. Level -4, Level-5, Level-6 and Level-7 which is a remarkable achievement in itself. The students have also bagged I, II and III positions in the University in all the semesters. The department of Textile Design and Apparel Technology also makes the best efforts to complement the academic system with practical skills through various methodologies that extend beyond the classroom. All these skill based courses primarily keeps the job prospects in mind as college has tie ups and MOU's signed with different industries. It is important to mention that the college is running seven skill development B.Voc courses in Animation & VFX, Retail Management, Management & Secretarial Practices, Photography & Journalism, Nutrition, Exercise & Health, Textile Design & Apparel Technology and Beauty and Wellness and three M.Voc courses in Animation & VFX, Retail Management and Textile Design & Apparel Technology under its umbrella. 
The  Star students of the college includes Mrs Renu and Ms Mandeep of Nutrition, Exercise and Health as they were offered the post of dietician in Neo Fitness Gym and Shreya's Family Diet Clinic, Sukhmanpreet Kaur of Animation & VFX has been selected in Prime Focus World, Mohali as Rotoscopic Paint Artist, Kajal Sharma, a student of Advanced Diploma in Animation is working with Pritam Film Productions as a 3D Artist, Karampreet is working as Video Editor with VIP Motion Pictures, Mehak is working as Trainee Editor in Dainik Sawera, Priya and Bhupinder, students of Diploma in Animation is currently working as a Trainee 3D Artists in Pritam Film Productions Pvt. Ltd. & Kamalpreet Kaur from B.Voc. Animation has her own photographic entrepreneurial venture called SS Productions. B.Voc photography and Journalism has tie-ups with the leading media houses like Ajit Samachar, Zee Punjab, Haryana and Himachal(ZPHH), F9 Media, Shamsheer Communication Ltd, Daily Post and Punjab Tribune.com etc. Students of B.voc Textile design and apparel Technology participates in KMV fashion shows annually where in the budding student designers get opportunity to showcase their talent. Not only the apparels are designed by the students but are presented by the student models themselves on the stage provides a boost in their confidence and sense of ownership in what they are doing. B.Voc.(Nutrition Exercise and Health) has MOUs signed with Healthcare Sector Skill Council, Punjab Institute of Medical Sciences Society, Jalandhar and Govt. Medical College, Sector 32 Chandigarh. Beauty and Wellness has tie-ups with Amit makeovers, Beauty spas, Milano institute of beauty and wellness, Beyond beauty Salon, Jalandhar and Beauty and Wellness Sector Skill Council. 
Principal also lauded the efforts of Director, DDU Kaushal Kendra Dr. Gopi Sharma, various course in-charges and also the faculty for their constant efforts.