Professor Pradeep Kumar Memorial lecture held
Theme of lecture was emerging trends and patterns in Indian politics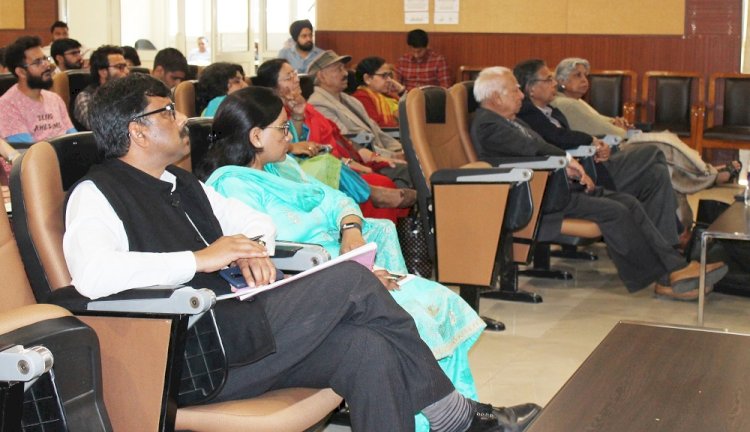 Chandigarh: Department of Political Science, Panjab University, Chandigarh organized Professor Pradeep Kumar Memorial Lecture on Emerging Trends and Patterns in Indian Politics by Professor Sanjay Kumar, Director, Centre for the Study of Developing Society, New Delhi, here today. 
Professor Sanjay Kumar raised the following emergent trend regarding the Indian elections:   increased  level of people participation in Indian elections. The national elections held during last one decade (2009, 2014 and 2019) and almost all the state assembly elections held within the same time period have witnessed an increase in vote turnout. The latest 2019 Lok Sabha elections witnessed highest  turnout in Lok Sabha elections. The local body elections have witnessed a much higher turnout compared to the national and state level election. When there is an overall increase in voter's turnout, we expect increasing participation amongst various sections of voters. But what is noticeable is an enormous increase in turnout of Women voters in Indian elections. The gender gap in Indian elections used to be more than 10% for a very long period of time which begun to narrow down since 2009 Lok Sabha elections. It narrowed down further during the 2014 Lok Sabha election (1.6%) and the most recent 2019 elections witnessed hardly any gap in turnout across men and women. Both men and women voted in more or less similar proportions in 2019 elections. Youth has also started voting in larger  turnout especially in the lok sabha elections.
What has contributed to this increased participation of voters in recent decades? Professor Kumar argued that the increasing electoral participation during last one decade is largely because Indian voters being far more sharply divided on party lines compared to the past. A very large majority (65%) Indian voters vote keep in mind the party and with sharper division of voters on party lines, loyal supporters of various political parties are getting more motivated and turning out to vote in much bigger numbers now compared to the past. This increased loyalty towards political parties has resulted in decline in the proportion of what is popularly referred as Floating Voter  Yet another related  question is: does this increased turnout indicate any specific trend? Does increased turnout indicate an anti-incumbency mood of voters?  In election studies, higher turnout is considered a sign of anti-incumbency mood of the voters as voters are supposed to express their dissatisfaction with the incumbent  government. An alternative view is that increased turnout is a sign of pro-incumbency mood as voters turnout out to vote in big numbers in support of the ruling party. And both the views are expressed very emphatically without any application of any reality check. A reality check suggests there is no relationship between turnout and electoral outcome, turnout has increased, and candidates have got defeated and vice versa. Similarly, turnout has declined and sitting candidate or ruling parry has got defeated and vice-versa.
Of all the Lok Sabha seats which went to polls for six decades suggest, (1967-2019) there have been elections for 7408 Lok Sabha seats, turnout increased in 4418 constituencies and declined in 2990constituencies. Professor Kumar also stated Electoral verdicts are more convincing now compared to the past. If a higher turnout has any effect on electoral outcome, it has helped in winner winning elections more convincingly compared to the past. In our multi-party democracy and with our first past the post electoral system, many candidates normally use to win elections with very small margins mostly not representing the will of the majority. During last two decades, the winner is winning with much bigger margins now compared to the past. The average difference in votes between the winner and runner for the Lok Sabha elections has increased from about 10% till 2009 Lok Sabha elections15.2% in 2014 and further to 17.3% % during that 2019 Lok Sabha elections.  To put it simply more candidates contesting the Lok Sabha elections are winning elections with bigger margins now compared to the past. Large number of Lok Sabha candidates managed to poll more than 50%votes.  During the 2019 Lok Sabha elections in 341 Lok Sabha seats the winner polled more than 50% votes. There were 15 states where the BJP/NDA polled more than 50% votes.

Even the state level the electoral contests are decided far more convincingly now compared to the past. The party which wins elections win by a handsome margin. There are some exceptions in in recent years (Haryana, Jharkhand) The Delhi elections is a latest example in series of states.
 
Yet another reason for the higher turnout is that Small town have become the real hub of Politics/Elections in India as voters in Small town are participating in elections mbers much more than in villages and in big cities.
Though participation is good but there are some sings of anxiety as well. There is an undue influence of Money and muscle power in Indian elections. It has become worse in last two decades. The number of tainted elected representatives both in National Parliament and State assemblies (MP, MLA) has increased enormously over the years. This is because Indian voters largely vote for their party and do not look at the merits and demerits of the candidates. They fail to evaluate/examine the candidate on the bass of their merits and demerits. 
Prof. Shankarji Jha, Dean University Instruction and officiating Vice Chancellor was the Chief Guest and Prof. Ashutosh Kumar, chaired the lecture. DUI referred to Arth Shastra as the first political test which was the contribution of ancient India. He added that in Indian knowledge Tradition, the King has the Raj Dharma to serve his subjects.
Those present included Dr. Navjot, Chairperson, Prof. Ronki Ram, Dean, Faculty of Arts and PU Fellow, faculty, researchers and students were present. /(Feb 26)