Prof Jaspal Kaur Kaang expressed her views on concept of Sikh martyrdom and its relevance in today's time
Presented paper as scholar of Gurbani in webinar organized by Shri Guru Granth Sahib World University, Fatehgarh Sahib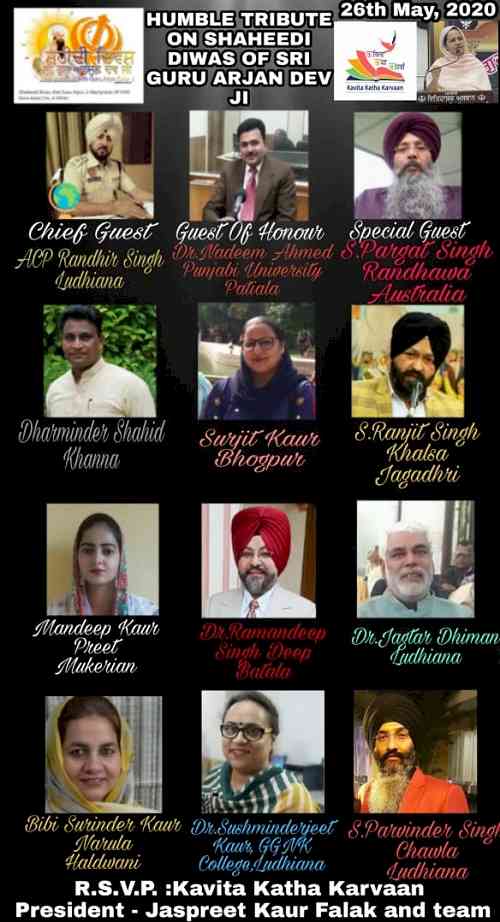 Chandigarh: Dr. Jaspal Kaur Kaang, Professor & Academic Incharge, Dept of Guru Nanak Sikh Studies, Panjab University Chandigarh today presented a paper as a scholar of Gurbani in the Webinar organized by Shri Guru Granth Sahib World University, Fatehgarh Sahib on the topic "Concept of Sikh Martyrdom: It's Development and Universal Relevance". 
 Prof. Kaang focused on the point that there was no concept of 'Shahadat' in the Indian Culture and Tradition prior to Sikh religion. The word 'Shahadat' comes from Islam as in which their was  a great tradition of giving one's life to save the honor and glory  his own religion. But Sikh Religion has its own concept of 'Shahadat' in which there is a rich tradition of giving 'Shahadat' to save other's Religion. Guru Arjan Dev ji sacrificed his life to save people of India from the oppression of Mughals. Similarly Guru Tegh Bahadur Ji gave his 'Shahadat' to protect Kashmiri Hindus and Pandits. 
She added that the Sikhs are motivated by the teachings of their Gurus through Gurbani which makes them internally strong. So the Bani of Guru Granth Sahib works as a foundation to make it's followers fearless from where the feeling and motivation for 'Shahadat' develops. She explained that Sikh history is based on the concept two major concepts which are 'Shabad' and 'Shahadat'. At the end of Webinar, Prof. Pritpal Singh, Vice-Chancellor of Shri Guru Granth Sahib World University, appreciated the efforts of Speakers who spoke on the different aspects of Guru Arjun Dev Ji's personality and martyrdom. Almost 200 participants attended the webinar and paid homage to Guru Arjun Dev Ji.
There were two other speakers; Prof. Balwant Singh Dhillon, Former Director Center for Guru Granth Sahib Studies, Amritsar and Prof. Harpal Singh Pannu, Guru Gobind Singh Chair, Central University, Bathinda.