Prof Gurbhajan Gill's book "Mann Pardesi" released
Book of ghazals released by Dr SS Johl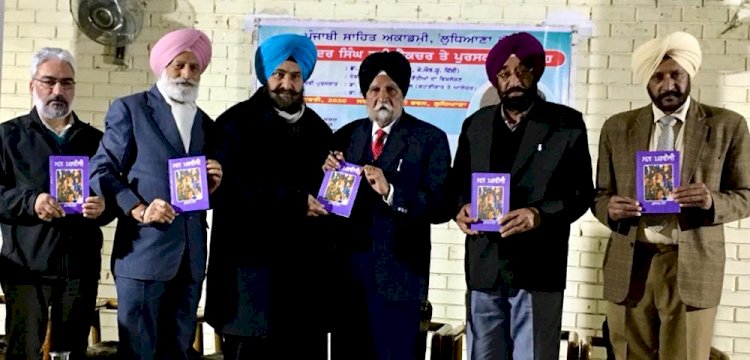 Ludhiana: Noted Punjabi poet Prof Gurbhajan Gill's ghazal book titled "Mann Pardesi" was released by Dr SS Johl, noted economist and chancellor, Central University of Punjab, during a function held at Punjabi Bhawan, here last evening.

On this occasion, Punjabi Sahit Akademi president Prof Ravinder Bhathal, Senior Vice President Mr Surinder Kailey, General Secretary Dr Surjit Singh, former president Dr Sukhdev Singh Sirsa, were also present.
While speaking on the occasion, Prof Gurbhajan Gill informed that his first book of ghazals titled "Har Dhukhda Pind Mera Hai" was published in the year 1985, after which he has penned books titled "Do Harf Raseedi", "Mann De Boohe Baarian", "Mor Pankh", "Tareyan De Naal Gallan Kardeyan", "Gulnaar", "Mirgawali" and "Raavi". He informed that "Mann Pardesi" is his ninth collection of Ghazals and 16th book in total. This book has been published by Chetna Parkashan.
Dr SS Johl said that Prof Gill is capable of presenting complex topics of life in a simpler language as his writings consist of language of our motherland. He said that Prof Gurbhajan Gill is not only an excellent poet, but is also a farsighted Punjabi, who is concerned about his motherland.
Prof Ravinder Bhathal said that Prof Gill has been promoting Punjabi language and culture for the last several decades. He informed that Prof Gill started his career as a professor of Punjabi language in the year 1976 and from year 1983 to 2013, he served Punjab Agricultural University, Ludhiana as Editor (Punjabi). Prof Gurbhajan Gill also remained the President of Punjabi Sahit Akademi from year 2010 to 2014, as well as a senior office bearer of Prof Mohan Singh Memorial Foundation from 1978 to 2014.
He was also instrumental in the establishing of Maharaja Dalip Singh Memorial Trust at Bassian Kothi (near Raikot), Punjab Bhawan at Surrey (Canada) besides several other organisations. He is also the Chairman of Punjabi Lok Virasat Akademi. Besides, he is actively associated with Kila Raipur Sports, Surjit Sports Association Batala (Gurdaspur), besides several others. In the year 2016, he was awarded fellowship by Punjabi University Patiala and by Punjabi Sahit Akademi in the year 2018.