Prem Chand Markanda SD College for Women holds 45th convocation
Chief Guest of event was Dr Kiran Bedi, Governor of Puducherry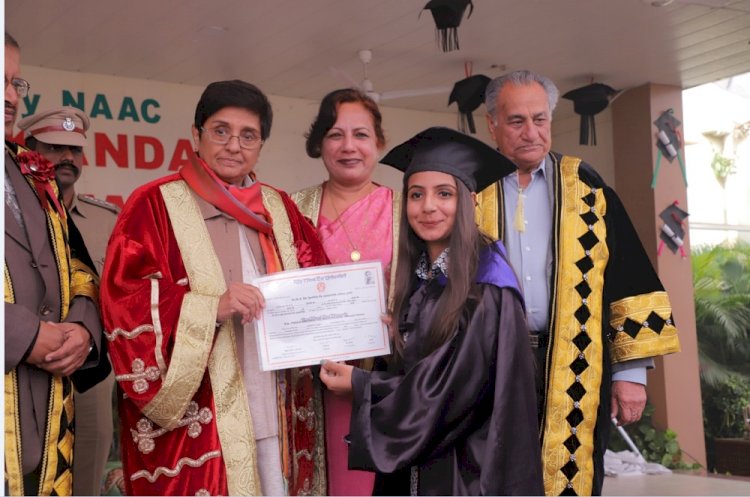 Jalandhar: The 45th convocation ceremony was organized at Premchand Markanda S.D. College for Women, Jalandhar. Degrees were awarded to 377 students that includes students of M.Com, MBEIT, MSc Computer Science, MSCIT, MSc Fashion Designing, BA, B.Com, B.Sc Economics, Computer Science, Non-Medical and Fashion Designing, PG Diploma in Cosmetology, Garment Construction, and Fashion Designing. 
The Chief Guest of the event was Dr. Kiran Bedi, Governor of Puducherry. Shri Purushottam Lal Budhia, President of the College's Managing Committee, Joint Secretary Mr. Vinod Dada, Principal Dr. Kiran Arora, Function Incharge Smt. Sangeeta Sharma, Head Girl Kritika Maggo, Youth Club President Manmeet Kaur provided floral bouquets to the Chief Guest. The ceremony was started with the lighting of the ceremonial lamp. On this occasion, a member of the college's managing committee, Shri Naresh Budhia, Mr. Kamal Budhiya, Mr. Rakesh Budhiya, Sh. DK Joshi and heads of various other institutes were also present. 
Dr. Pramode Chand Markanda initiated 'Satya Prem' pure gold medals for meritorious students of the college to memorialize his parents. This year these awards were bestowed upon Simarjit Kaur, Komal, Kanize Fatima and Himanshi. The attire of the Convocation was launched on this occasion. Addressing the students, Chief Guest Dr. Kiran Bedi said that the purpose of education is self-reliance and responsibility and can contribute to nation building by becoming self-reliant. Build your life on the strength of hard work of Head, Heart and Hands. Work hard in the middle part, thanking God both in the morning and at night. Because he has given us so much. The purpose of education is to build character, build individuality and build nation and the ability to take self-determination so that we can live our lives peacefully throughout life. Education is for running a life smoothly. 
Joint Secretary of the College Shri Vinod Dada Ji thanked the Chief Guest and all the visiting guests on behalf of the Managing Committee. Memorandum was presented to the Chief Guest by the members of the College Managing Committee. Head of Commerce Department Mrs. Alka Sharma played the role of conducting the platform.