Power Minister Punjab inaugurates first 66 KV line on Monopole in State 
Punjab State Power Corporation Limited (PSPCL) continues to push for improvement in the services provided to the consumers.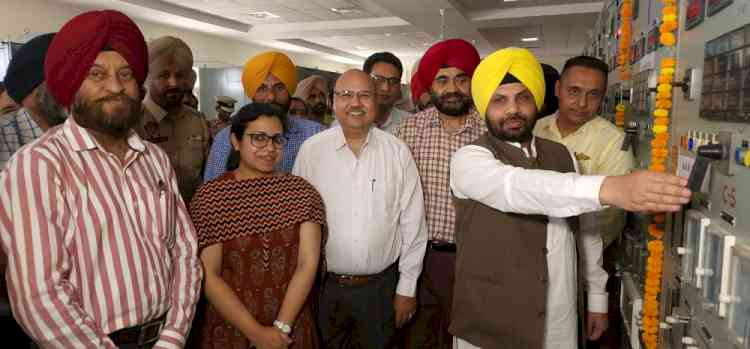 Ludhiana, June 12, 2022: Punjab State Power Corporation Limited (PSPCL) continues to push for improvement in the services provided to the consumers.  Punjab Power Minister Harbhajan Singh ETO inaugurated 66 KV Monopole Line from Ladowal GT Road Ludhiana 220 KV Sub Station.
Speaking on the occasion, Power Minister Harbhajan Singh ETO said that on the directions of Chief Minister Bhagwant Mann, PSPCL was making all out efforts to ensure uninterrupted supply in the industrial sector.  Under this, monopole lines are being set up in densely populated areas.  This is the first 66 KV line on Monopoles from 220 KV sub-station Ladhowal to 66 KV Sub-station G.T road Ludhiana, located in very thickly populated and congested area of Ludhiana. This 12 km double circuit line has been constructed by PSPCL at the cost of 16.25 crores. Out of this 12 km line, about 6 km is on monopoles and monopoles have a base of one meter to two meters against five meters to seven meters base of conventional towers. Thus they are suitable for erecting transmission lines in congested and thickly populated areas with ROW issues in city areas. With the commissioning of this line power  to the old city area will become more reliable as additional source of power from 400 KV Nakodar will be provided in addition to two existing sources from Bhakra via 220 KV sub-station Jamalpur and 400 KV Powergrid Ludhiana via 220 KV sub-station Ferozepur Road Ludhiana.
Power Minister also informed that last month PSPCL and PSTCL had augmented 1X100 MVA 220/66 KV Power Transformer at 220 KV sub-station BBMB Jamalpur to 160 MVA capacity at the cost of 8.5 crores and thereby resolving the problem of load shedding in Millerganj, Transport Nagar and Chandigarh road areas which was persisting from the last 10 years.
Power Minister also inspected ongoing works at 220 KV Ladhowal. PSTCL is installing second 160MVA, 220/66 KV Power Transformer at the cost of 9.5 crores for which work is in progress and will be completed by 15th July 2022. This will provide more reliability to supply of Industrial city of Ludhiana. He also inspected Hotline Maintenance techniques on the live energized 220 KV transmission system at the sub-station. Government of Punjab is introducing modernized techniques in maintenance of the transmission system. PSTCL has received an aerial mounted bucket insulated truck which will be put into use after completing training and registration process. With this live line maintenance of 400 KV, 220 KV and 132 KV lines and sub-stations will be carried even in far off places in the fields throughout the state of Punjab.
Thus, Voluntary Disclosure Scheme (VDS) is being implemented to regulate the increase in load of agricultural tubewell (AP) connections to meet the high capacity requirement of agricultural tubewell motors due to the coming paddy season in the state.  Therefore regular camps are being organized in the villages and the benefit of this can be availed by paying only Rs. 2,700.
Director Technical Yogesh Tandon said that the supply would come from 440 KV Nakodar grid to 220 KV Ladowal sub station and from there through 66 KV monopole line to Amaltas grid.  Earlier, power supply from Lalton Kalan Grid to 66 KV Amaltas, 66 KV Sundar Nagar and 66 KV GT Road and 66 KV Choura Bazar was cut off due to overload.  But with this new option the grid will no longer be overloaded and the power supply will not be affected.
Earlier, the Power Minister was given a guard of honor by the police and administration on his arrival in Ludhiana.  Among others Deputy Commissioner Surbhi Malik, ADCP Pragya Jain, Director Technical PSTCL Yogesh Tandon, Chief Engineer/TS, PSPCL, Chief Engineer/P&M, PSTCL and Chief Engineer/Central, PSPCL Ludhiana were also present.