PORCUPINE WITNESSED IN PREMISES OF ARMY OFFICERS ENCLAVE, NEAR KHURLA KINGRA IN JALANDHAR
THE WILD ANIMAL CRATES SCARE AMONG THE LOCALITY RESIDENTS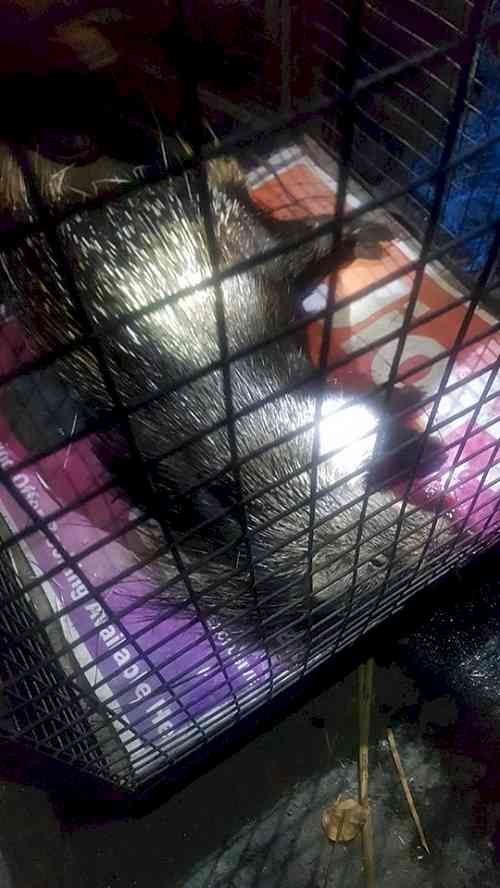 Jalandhar: A porcupine was witnessed in the premises of the Army Officers Enclave, near Khurla Kingra, Jalandhar on Monday night, resulting to which sensation was prevailed among the locality residents. 
The porcupine was first seen at around 9pm on Monday in the locality concerned. It was chased by villagers keeping in mind the threat from its quills. 
The residents Sunil Chaudhary and Anu Chaudhary were the first ones to see the porcupine near entry gate of the locality. "We got scared to see this wild animal", they said.
The wild animal succeeded in entering into a house.
On this, the officials of the Department of Forests & Wildlife Preservation, Punjab were informed about presence of a porcupine in premises of the locality. The porcupine was creating a scare among the locality residents.
On getting the information, the officials of the concerned department arrived and they gave a tranquilizer shot to make the animal unconscious. Finally, the forests and wildlife officials succeeded and caught the wild animal. The porcupine was put into a cage.
"We have seen this animal first time in our life", said Chaudhary, adding, "We were scared after seeing this animal."
A photograph of the porcupine in the cage was also clicked by Arjun Chaudhary. 
It may be mentioned here that Latin name porcupines is "quill pig" because these animals are large rodents with coats of sharp spines, or quills, that protect them against predators.