PLIGHT OF WORKERS MISERABLE: AITUC
BECAUSE OF UNPLANNED LOCKDOWN DURING COVID-19 CRISIS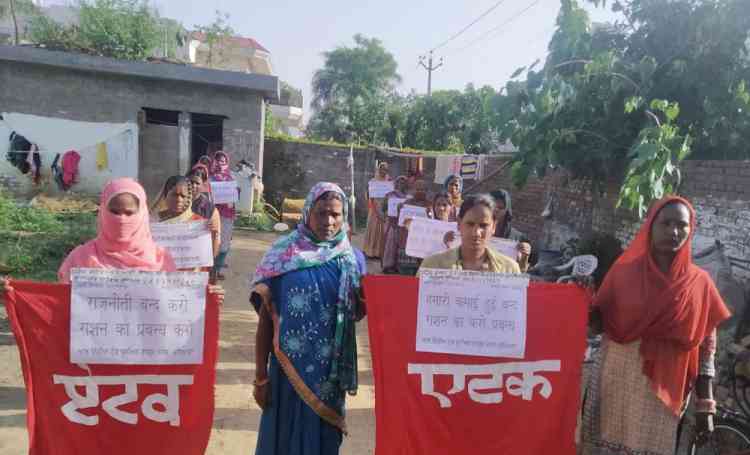 Ludhiana: The All India Trade Union Congress observed May day today to remember the struggle waged by the workers through the history in building modern society. 
Members of various units of AITUC while maintaining physical distance as per the health guidelines during the ongoing  COVID-19 gathered at Haibowal Kalan, Rishi Nagar, Barewal Road, Pakhowal Road, Dhandran Road,  Salem Tabri, Rahon Road carrying placards highlighting the plight of workers. 
The day was observed also by the employees of Punjab Roadways, PRTC, MC Zone A & D, PAU, PSPCL. They demanded immediate supply of ration to the needy, payment of Rs.6000 to all the workers by the government, universal public distribution system for all without any pre conditions. They also demanded from the central government to facilitate the travel of workers  to their families in their respective native places and for this start special train services. 
Comrades D P Maur – Vice President AITUC Punjab, Vijay Kumar – General Secretary AITUC Ludhiana, Ramesh Rattan – President AITUC Ludhiana, M S Bhatia – Joint Secretary AITUC Ludhiana said on this occasion that the workers are at a serious receiving end because of sudden lock down which led to closure of all activities which has affected the daily wage earners and self employed the maximum many of them have to wait for food whole day long and are left at the mercy of donors. While there is stock of about 7.7 crore metric tons of grain in the FCI godowns, the government is not supplying it to the needy. The workers have landed such a miserable situation because the lockdown was totally unplanned. When the situation was getting serious our Prime Minister was busy in receiving US President Trump. It is also unclear whether all those who came with Trump were subjected to COVID-19 screening? Whereas the government has ordered freezing of DA and DR of the employees and pensioners they have given relief of 68000 crores rupees to the bank defaulters. All steps are being taken to give doles to the corporate. Not only that the Modi government is communalizing the situation and trying to split the society. We have to fight it out unitedly.