Players of Ramgarhia Girls College received state level awards
They represented Punjab in various softball championships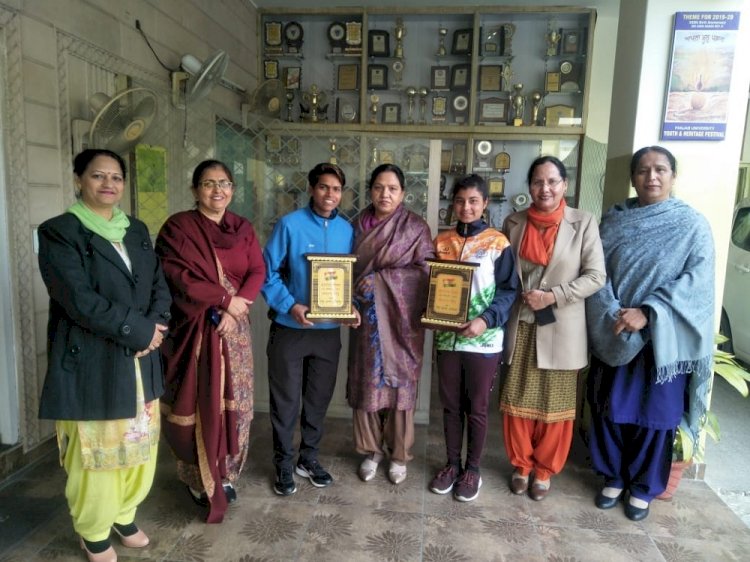 Ludhiana: On the eve of 71st Republic Day celebrated at Guru Nanak Stadium Ludhiana, two national level players of Softball Team of Ramgarhia Girls College, Manisha Kumari and Ramandeep Kaur received State Level Award for their wonderful performance in the field of sports. Both the players have won several medals and represented Punjab on National level in various Softball Championships throughout the year. Manisha has represented India on International level also. Ramandeep has also gained second position in Senior National Softball Championship. 
Congratulating both the brilliant players Principal Dr. Inderjit Kaur expressed her joy by saying that it is a matter of great pride for us that the players of our college have received the prestigious awards that would inspire the other players to achieve the same by improving their performance. 
Dr. Rajeshwarpal Kaur Head, Dept. of Physical Education praising the efforts of both the players asserted that it is indeed the outcome of the sheer devotion and hard work of these players that has helped them to achieve what others dream of and with such determination they will keep on achieving higher goals in their future also. 
S. Ranjodh Singh President Ramgarhia Educational Council expressed his views by saying that this achievement has indeed proved that this is the era of girls and that they are in every manner better than their male counterparts.(January 28)